Plating and Exhaust
2/1/13
Plating and Exhaust
The plating finally returned from my plater. There were some delays over the Christmas Holidays, but I think it was worth the wait. I've been using this new plater for about a year, and have really liked his work. His prices are reasonable, and the quality and craftsmanship are there. Plating prices are all over the place, and it's not getting cheaper considering the time it takes to get these pieces perfect and the dangerous chemicals involved, but paying a little more for someone who understands how the pieces go back together, and what parts of the pieces need plating and what parts do not is also very critical when it comes time for me to reassemble the parts. Once a mistake is made on the plating end, it can get very expensive to fix it when I get the parts back. I've been working with this new plater, showing him the problem areas, and what to look out for. I love the fact that we can meet in person and discuss the parts that just isn't the same via e-mail or phone. So far, I've been happy, despite the time delays.

The early Ferrari 250 fuel rails have many sealing surfaces that can leak fuel, so I spent a lot of time carefully inspecting the mating surfaces and pointing them out to the plater. Large problems were best repaired before the new plating was applied. With everything replated, I carefully assembled the pieces and made sure all the washers were properly seated. I've recently been using aluminum washers to seal the banjo fittings on some carburetors. They're softer than the copper washers we've been using so I get slightly better sealing for troublesome fuel lines. Even though I didn't expect any problems, I used the aluminum washers on this line to insure a leak free system. Before I installed new yellow lines to the fuel line, I also primed the system with some temporary fuel lines we have at the shop. Checking for leaks on the fuel rail first saved me from taking the system completely apart later to get to a pesky banjo fitting.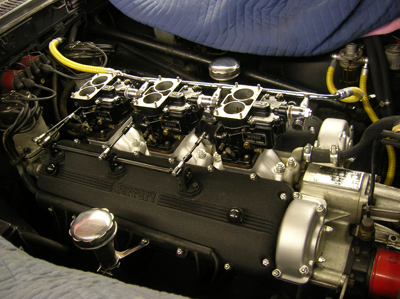 I was happy to find everything leak free and proceeded to make up new yellow lines with freshly plated pieces. This PF coupe is a very nice unrestored example, but many of the surfaces on the engine compartment were looking too worn and rusty, so I've been "sympathetically" restoring some of the parts. I tried my best to preserve some of the original pieces, but what I couldn't do was replate a rusty piece without it looking brand new. I believe with a few months of driving all the shiny pieces will age a little, and begin its "patination" and catch up with the rest of the original parts!

I finished Yale's 330 this week by removing the rear pair of mufflers on his exhaust system. He purchased a Timvalve system exactly 10 years ago, and I remember going to get it installed. It's held up well, but he's always felt it was a little quiet for his tastes. Yale was especially interested in the modification we made to a GTE exhaust several weeks back. We removed the rear most muffler and increased the throatiness of the system. The owner of the GTE wanted a loud exhaust, and after the mod, he was pretty happy. The ANSA system we modified for the the GTE was an OE replacement, and I feel they're a little louder than the stainless steel system, so with the rear muffler removed, I was concerned there would be too much droning inside the car, but so far, I have not heard any complaints!
We did a side by side exhaust comparison with three cars years ago, and found Yale's Timevalve system to be the quietest. The Stebro system seemed to have a deeper rumble, but perhaps too deep for some tastes. We felt that if we removed the rear muffler on Yale's system, it could be the perfect solution, so I got out my sawzall!
Since Yale's system was a stainless steel system, I needed to replace the pipe with the same 304 stainless pipe found on his car. I decided to call Mike York at Timevalve for some help. He took down my measurements, and sent me perfectly cut and flared ends that fit the pipe on Yale's exhaust exactly.
Working with the 304 stainless pipe it became obvious why the stainless systems sounded different than the mild steel ANSA system despite the fact they are very similar in shape. 304 stainless is much harder and denser than mild steel. Every material has a natural resonance, and denser materials will vibrate at different rates than lighter materials. Even though sound quality can be a very subjective matter, there still was some science to the differences. After we did the modification, I felt Yale was happy with the sound. I'll have to make a new recording to share.
Mike York moved Timevalve from Connecticut a few years ago to Melbourne Florida, and has done a great job manufacturing all sorts of stainless exhausts for many makes of cars. He's also found time to make custom pieces for Vintage Ferraris including the once unavailable Abarth Exhaust tips.
Reminder: If you have a Ferrari related project, car, or idea you'd like to explore, I'd love to talk to you. I can also help if you're thinking of buying or selling. This website represents what I love to do, and now it's how I make a living, so if you'd like to do something together, let me know. It all begins with an e-mail!
Previous Restoration Day
Next Restoration Day
Home page