Vintage Ferrari Parts
2/24/13
Vintage Ferrari Parts
I was looking at a parts catalog from GTO engineering in London, and I saw they made the crank bolt that fits on the end of a Vintage Ferrari crankshaft. I had made this parts a few years ago and was disappointed that they had done it again! It wasn't worried about the competition for this small part, but instead wished the energy was spent on making this part, and how one of us could have spent the energy to make something else! This got me thinking about all the other pieces I've made for Vintage Ferraris, and how the list keeps growing. I often find myself making these parts for the ease of my customers, but it can also benefit others if they're available to anyone else that needs the part.

My latest part are fuel line fittings with a nipple end machined to the face of the banjo bolt. These bolts replace the current bolts on the electric fuel pump so an auxiliary fuel pump can be added to the fuel system without major modifications to the lines. If the second fuel pump is wired in tandem with the existing FISPA fuel pump, you'll still get the Click-Click-Click of the old fuel pump, but also the pressure of a modern pump assisting the marginal OEM pump. I'm thinking of offering this as a complete kit, or selling just the fittings.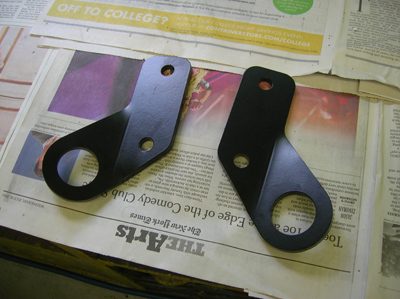 250 and 330 cars have very few places in the front of the car to attach a tow hook, so I made these tow rings that bolt to the sway bar brackets. They come in handy when your car needs a tow, or pull up onto the back of a flatbed.

I made exhaust shields for the 330 engines, and have molds to do 250 and even GTCs. The 330 2+2 shields are perhaps the easiest to fabricate, but the 330GTC is more involved. If you need a set, let me know.

Another project I'm working on is making new lenses for the 250 Series cars. The speedo and tachometer are specially cut beveled plastic lenses while the smaller gauges are laser cut flat plastic lenses. I'm working with my silk screener to get the lettering just right. Soon they'll be available in Metric and English markings.

The seat bottom foil has been a popular item. It's the mylar foil found on the bottom of 250GTEs, 330GT 2+2s, 330GTCs, and 365GT 2+2s. This foil is often damaged, torn, or missing.

I have sets available to replace this foil with new material.

Series I 250GTE have a vacuum formed plastic seat pan forming the support structure, but this material often cracks from the weight of the occupant. I've made copies of this seat pan in fiberglass which is much more durable and replaces the original pan.

Years ago we found 1957 Chevrolet Bel Aire tail fin trim a close match to the interior trim panel on 250GTEs, 275GTBs, and 330s. These panels were purchased from the supplier and then cut to size for the particular Ferrari application. I'm now working on a new technique by having the pattern machined on a CNC machine, and then cut out to size.

The same pattern is used for the GTE kick panels, and I'm making them with and without the access holes.

Having this pattern available to cut in various shapes gives me a good option for the different cars. I'm also working in the herringbone pattern for the 365GT 2+2s!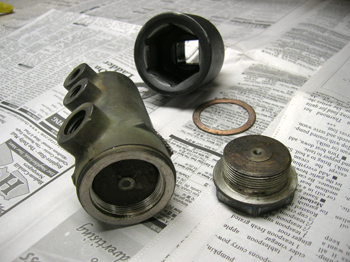 I've also exhausted the process of rebuilding the equalizer/proportioning valve on 250GT cars. Seals were specially made so these units could be rebuilt.

Push rods were manufactured in case the old ones were too rusty.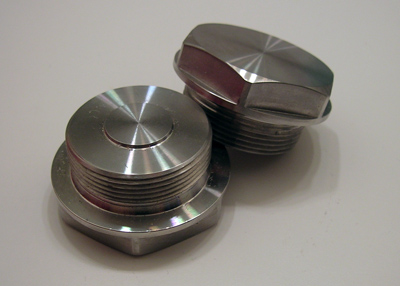 Even the end caps were remade. After all this work re manufacturing these units to almost new condition, I'm hardly impressed with the pedal feel! I guess that's as good as the brakes can get on an old Ferrari.
I'm sure there are other pieces I've made for Ferraris that I've forgotten about, but the list is longer than I thought! If you see anything I've made that you need, e-mail me for more information.
Save the Date! May 4th 2013
6th Annual Radcliffe/Tomyang.net Spring Car Show
12340 Owings Mills Boulevard
Reisterstown, Maryland 21136
Register to show at the Radcliffe Website or call 410-517-1681
Reminder: If you have a Ferrari related project, car, or idea you'd like to explore, I'd love to talk to you. I can also help if you're thinking of buying or selling. This website represents what I love to do, and I would be happy to help guide you through the Vintage Ferrari world so if you'd like to do something together, let me know. It all begins with an e-mail!
Previous Restoration Day
Next Restoration Day
Home page