Blower Motors, and More Disassembly
3/7/13
Cooling, and more Disassembly
I've been working on a black 330GT 2+2 at the shop that you've seen before, and we're doing some work on the ventilation system. The Smiths fresh air motors were both seized but I found nearly exact replacements made by Spal from my parts supplier. I had to transfer one bracket, but they worked out well.

The hose was a little loose, but with a little tape on the connection, everything fit perfectly.

I've been waiting for the left tail light assembly to come to me from Zac on the West Coast. It was getting re chromed and missed getting on the truck when the car was shipped. It's amazing how installing a simple tail light assembly can eat up shop time. Before I could install the freshly chromed tail light assembly, I had to first apply silver paint to part of the assembly, then I had to remove the rear bumper overrider since it blocked the access to the tail light holes. Luckily, I didn't have to remove the bumper because I managed to loosen the bolts to slide the overrider off.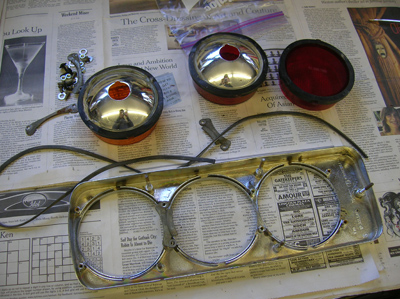 The studs on the tail light assembly needed to be chased with a die to remove excess chrome so the nuts would screw on. I then had to figure out how all the little screws and clips went together since I didn't take it apart.

Mark, the owner, wants to show this car, so I had to consider cleaning parts that were easier to do at this point than later on. The old rubber gaskets were in good shape to reuse, but looked dirty next to the new chrome and paint. Now was the time to thoroughly clean these parts when they were off the car. It's not hard work, but it sure is time consuming!

The 330GTC disassembly continued. We took the hood off so we could remove the radiator for pressure testing, cleaning, and painting. We're going to detail the engine compartment, and although it will be easier to do this with the engine out of the car, we still haven't decided if we want to pull it. I'm trying my best to refrain from completely restoring this car!

The glass needed to come out to properly paint this car, and that included removing the rear trim for re chroming. The rear windows on a GTC are fixed, and held in place with a combination of rubber gaskets, steel clips, and glue.

It was a dirty job to scrape enough of the old glue to find the hidden screws and hope they wouldn't strip on the way out.

Before I took things apart, I took plenty of pictures to remind myself several months from now how it all goes back together.

The inner panels had the Pininfarina job number "348" stamped on them. This internal Pininfarina number will always be associated with the Ferrari serial number 10587 since they came together when this car was built. I'll be looking for this PF number on all the other pieces to confirm this car is largely original and unmolested. There are a group of Ferrari fans out in the world that keep records of these numbers, kind of like the "trainspotters" of the Ferrari world. Although I don't keep up with numbers as accurately as these guys, I'm always happy to provide another data set to the community.

The inner door panels had to come off so I could remove the window frames for re chroming.

My first SNAFU was when a capture nut started free spinning inside its cage when I turned one of the bolts that held the window frame in place. I had enough access to the nut from the back side, so I should be able to hold the nut with a pair of vice-grips. That battle will have to wait for another day!
Save the Date! May 4th 2013
6th Annual Radcliffe/Tomyang.net Spring Car Show
12340 Owings Mills Boulevard
Reisterstown, Maryland 21136
Register to show at the Radcliffe Website or call 410-517-1681

Reminder: If you have a Ferrari related project, car, or idea you'd like to explore, I'd love to talk to you. I can also help if you're thinking of buying or selling. This website represents what I love to do, and I would be happy to help guide you through the Vintage Ferrari world so if you'd like to do something together, let me know. It all begins with an e-mail!
Previous Restoration Day
Next Restoration Day
Home page