330 Wheels and Engine Assembly
3/24/13
330 Wheels and Engine Assembly
The black GTC had its hood latch stick a couple of weeks ago and Francois brought it into the shop to release it. GTCs have an emergency release, but someone had disconnected it from the latch! Francois resorted to taking the latch out from under the car, but this was no easy feat. The igniton coils had to be removed from the rear of the engine while under the car before access to the four nuts that secure the hood release could be removed. After Francois struggled to get the hood opened he left me with the task of figuring out what went wrong and reconnecting the emergency pull cable. It helped a lot to have the other GTC largely disassembled as a guide, but that didn't stop the little wires from cutting the %&*$# out of my hand! The solid wire from the main release mechanism stabbed me so deeply in my hand, I wondered to myself when I had my last tetnus shot! Cursing at this car, I decided it was better for me to walk away from this project, at least until my wounds healed!

The wheels on this GTC needed to be refinished, so I first removed the trim rings.

These wheels are a little more beat up, but hopefully, the wheel shop can do something about the missing chunks. These are magnesium wheels, so they require a little more care when repairing them.

The other GTC wheels I worked on had the wrong tires, but these were correct.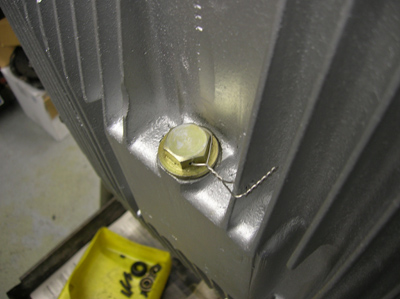 A new drain plug came in the mail this week for the 330 engine rebuild. It's made of steel instead of the original brass and did not come with a through hole for the safety wire, but after drilling the hole, I installed it and went back to work assembling the top side of the engine.

I installed the valve covers and all the little bits that follow from the oil filter stand, the throttle stand, starter, and distributors. I still need to make up the oil lines so I can prime the oil pump with the starter.
Save the Date! May 4th 2013
6th Annual Radcliffe/Tomyang.net Spring Car Show
12340 Owings Mills Boulevard
Reisterstown, Maryland 21136
Register to show at the Radcliffe Website or call 410-517-1681

Reminder: If you have a Ferrari related project, car, or idea you'd like to explore, I'd love to talk to you. I can also help if you're thinking of buying or selling. This website represents what I love to do, and I would be happy to help guide you through the Vintage Ferrari world so if you'd like to do something together, let me know. It all begins with an e-mail!
Previous Restoration Day
Next Restoration Day
Home page