365GTC/4
5/11/13
365GTC/4: The Reassembly Begins
We sent the 330GTC out for paint this week and a 365GTC/4 arrived for reassembly. As you can see, the owner had the bumper painted body color and I think it looks much better than the black rubber bumper that originally came with the car. This decision was not as simple as breaking out the paint.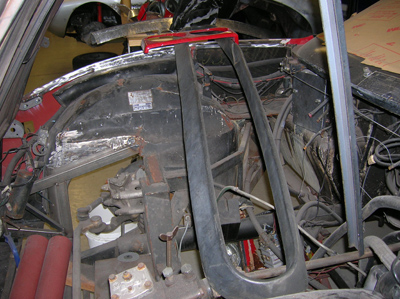 The story began with repairing crash damage on this car and a replacement bumper was located. I believe it was a fiberglass copy someone had, but when it was put on this car, the fit was pretty bad and would have needed a lot of work to make right.

It was decided to make a new bumper out of aluminum to follow exactly the shape of the nose section. This began with a substantial aluminum plate bolted to the bumper mounts.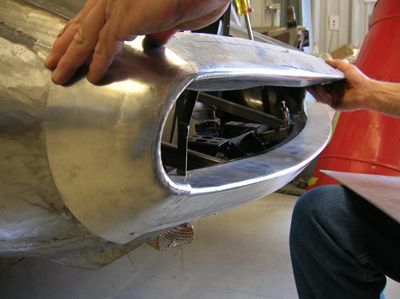 The work to fabricate the bumper was beautiful, but I hesitate to call this section a bumper, because it won't withstand any bumping!

When it came time to paint the nose, a few discussions were had about what to do with the body line between the bumper section and the actual body. It would have been no problem to eliminate the line and smooth out this area with filler before paint was applied, but it was my opinion that this line was crucial to break the nose section up when the original bumper was designed. The headlight doors followed this break, along with the dip in the nose, and eliminating this body line would cause a cascade of visual design problems. I was happy everyone eventually agreed with my thought and the line was saved before the paint was applied.

The interior work was just completed, and it's now ready for us to put all the hundreds of pieces put back together.

The engine was removed to repair some of the areas in the front of the car, so we have a lot of parts to install!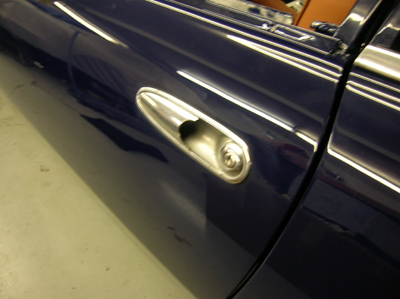 Reassembly of the doors began with the door handle since it was the last thing to be removed after door panel, window frame, vent window, and glass.

The brakes will have to be sorted and some of it will have to be rebuilt.

The wheels will need to be stripped and painted to match the level of paint on the rest of the car.

The wheels were suffering from the usual blistering from moisture trapped under the paint. We'll have these looking brand new in a few weeks time.
Reminder: If you have a Ferrari related project, car, or idea you'd like to explore, I'd love to talk to you. I can also help if you're thinking of buying or selling. This website represents what I love to do, and I would be happy to help guide you through the Vintage Ferrari world so if you'd like to do something together, let me know. It all begins with an e-mail!
Previous Restoration Day
Next Restoration Day
Home page