365GTC/4
5/18/13
365GTC/4: Cleaning, Undercoating, and the Steering Wheel
One problem with a freshly painted car is dust gets EVERYWHERE! Thoroughly cleaning everything is all part of reassembling the car including cleaning the electrical connectors and wiring.

We had some body work done inside the fender wells, so the original undercoating was stripped away and I masked everything off to reapply some rubberized undercoating.

The taillights were installed in the rear of the car along with the gas tanks and wiring.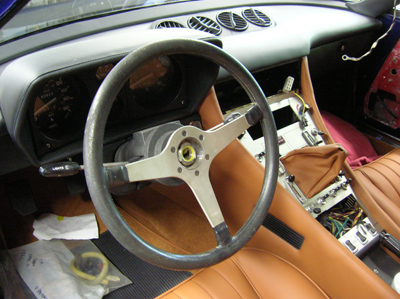 The steering wheel really looked ratty next to the newly finished interior so it needed to come off for restoration.

Momo steering wheels have a lot of little details that need to be followed when they get restored. There's a very fine seam at the 6 o'clock position that is skived thin and glued together.

The thread on the wheel is white although it tends to darken from dirt through the years.

I started to work on the retractable headlight motors and the wiring associated with the front of the car. There are fog lights, headlights, marker lights, and horns to hook up.

The Prancing Horse badge will have to be replated but it will be the finishing touch to the front of the car.

The C/4 engine was brought out and cleaned up to install in the car as a 330 engine was picked up by a customer. He'll install this engine in the car he's restoring and we'll be firing it up when he brings the car back to us in a few weeks.
Reminder: If you have a Ferrari related project, car, or idea you'd like to explore, I'd love to talk to you. I can also help if you're thinking of buying or selling. This website represents what I love to do, and I would be happy to help guide you through the Vintage Ferrari world so if you'd like to do something together, let me know. It all begins with an e-mail!
Previous Restoration Day
Next Restoration Day
Home page