365GTC/4, 365GT 2+2, and another 330GTC
5/31/13
365GTC/4, 365GT 2+2, and another 330GTC
Assembly of the 365GTC/4 continues at the shop. We put a fresh coat of paint on the exhaust to get it ready to install.

The brakes on the GTC had to be inspected since this car has not been on the road for several years. The pistons were seized and we needed to disassemble the calipers to see how much work was needed. GTC/4 brakes has a special dual circuit system that split the individual calipers into separate systems and I always remember how difficult these systems are to bleed. Let's hope this one is the exception!

This car suffered a hit in the front many years ago, so some of the front end parts got damaged in the accident. One of these parts was the fresh air blower that mounted low in the lower fender. The Spal motor assembly is readily available, but this bracket will have to salvaged.

Switching gears this week, I swapped out some yellow fuel lines on a 365GT 2+2. Back in the 80s and early 90s, a batch of reproduction yellow hose was sold on the Ferrari market. Through the years this yellow hose started to dissolve from the inside. A gooey tar like substance can be found weeping out of the seams and makes a mess of the hose. The new yellow hose being supplied to us today is made with a different liner and doesn't seem to be dissolving anymore.

Since I had a set of newly plated fuel hose fittings, I was able to swap out the old fittings without the wait for the parts to be plated. You can see how the new yellow hose has a shiny finish compared to dull mat finish of the bad hose.

With the hoses installed, it not only looks better, but also no more goo!

A new 330 GTC was dropped off at the shop this week. It's a pretty nice car, and the owner wanted us to fix a couple of things and get our opinion on what we thought.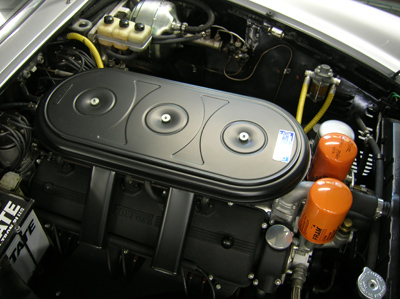 Everything looked right, and I liked what I saw, but it didn't take long for me to spot a problem. On every 330GTC I see for the first time, I always check to see if the front shock towers have been welded. There was a recall from Ferrari back in 1970s after a couple of accidents:

I try my best to warn as many owners about this problem and how important it is to repair 330GTCs. Francois told me back in the 60s, there was a high speed accident in Germany when a shock mount failed, locked into the steering column, and the driver lost control of the car. A second accident happened in the States before Ferrari issued the letter about the repair. I often find GTCs being repaired a some major shops that don't know about this recall despite my efforts to warn everyone and prevent a catastrophic failure. If you own a GTC, or find one that has not be fixed, please help spread the word. I can at least know my customers will be safe!
Reminder: If you have a Ferrari related project, car, or idea you'd like to explore, I'd love to talk to you. I can also help if you're thinking of buying or selling. This website represents what I love to do, and I would be happy to help guide you through the Vintage Ferrari world so if you'd like to do something together, let me know. It all begins with an e-mail!
Previous Restoration Day
Next Restoration Day
Home page