GTC Suspension Repair
6/8/13
GTC Suspension Repair
Last week I showed a critical repair needed on all 330 GTCs explained in a letter from Chinetti Motors back in 1970.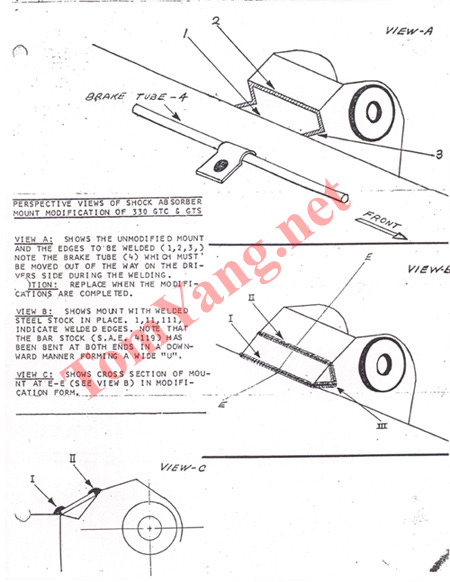 Here are some pictures of the 330 GTC at our shop that still did not have this reinforcement plate welded in place. The picture shows the right front suspension mount with the top of the coil over shock. All the weight of the front suspension sits on this loop of steel, and failures had occurred on GTCs when this mount cracked.

The left mount is the harder of the two repairs to weld, and yet it is the most critical one to fix because when this one breaks, the coil over shock assembly can jam and lock the steering shaft. A mig welder nozzle can fit in this confined space without removing the steering column.

I fabricated pieces to fit in the suspension gap and readied the area for welding.

The pieces fit perfectly in the gap.

With the welding done, I ground away the excess and painted the area to match the rest of the engine compartment. Now we can drive this car without the worry of a front suspension failure!
Reminder: If you have a Ferrari related project, car, or idea you'd like to explore, I'd love to talk to you. I can also help if you're thinking of buying or selling. This website represents what I love to do, and I would be happy to help guide you through the Vintage Ferrari world so if you'd like to do something together, let me know. It all begins with an e-mail!
Previous Restoration Day
Next Restoration Day
Home page