GTC and GTC/4
6/11/13
GTC and GTC/4
Sorting out the little issues with the 330GTC I took a look at the windshield wipers. The complaint was the wipers arms did not park when the wipers were shut off. I was hoping this fix would be easy because with the Lucas electric motor in this system, you never know what could be wrong. There is a "park" adjustment on the wiper motor, but it required partially removing the wiper motor to gain access to the the adjustment.

Luckily, it took a good cleaning of the contacts and a proper adjustment to make the wipers park in the correct position.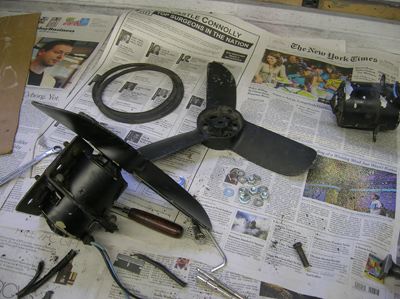 I continued assembly of the 365GTC/4 at the shop and began putting more pieces together on the nose of the car including the headlights and the cooling fans.

I found one bent shaft on a fan motor, but luckily had a replacement.
Reminder: If you have a Ferrari related project, car, or idea you'd like to explore, I'd love to talk to you. I can also help if you're thinking of buying or selling. This website represents what I love to do, and I would be happy to help guide you through the Vintage Ferrari world so if you'd like to do something together, let me know. It all begins with an e-mail!
Previous Restoration Day
Next Restoration Day
Home page