365GT 2+2 Engine Detail
6/15/13
365GT 2+2 Engine Detail
I brought Mark's 365GT 2+2 back into the shop to begin some detail work on the car. This car has been with me for a while as I sorted through some of the engine tuning, but the big delay has been waiting for the %$*&# windshield gaskets! The ones that were fitted left a lot to be desired, and I've been trying to find a set that would work better. I called Motion Products months ago to get a set from Italy, and they're still not here. I told Dan at Motion the reason why I called him so many months ago to start the process of ordering these gaskets was so I wouldn't have a time crunch when I needed to deliver the car. Well, now we're about 5 weeks out from the FCA National Event that Mark would like to attend, and I still don't have any window rubber. Welcome to my world. Ugh!

I started to clean up some of the plating in the engine compartment to make things presentable for the National meet. There was a lot of cadmium plating, and black oxide pieces that needed some work.

The intake runners were looking crusty so we cleaned and painted what was visible.

The horn compressor on this car was painted in silver, and I'm not sure if this is original. The earlier cars had black wrinkle caps, but I this silver finish may be original. I'm going to leave this alone for now and try to do some research. Does anyone know if this horn compressor should be silver on a 365GT 2+2?

The left window motor was pretty slow, and was not moving back up when I tried the switch. I told Mark it was probably time for a new motor even though there was some problem with the switch.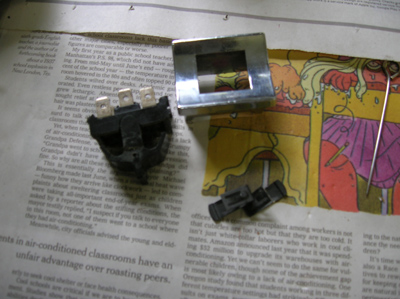 As the motor wore out, the resistance rose, and this caused the switch to get hot from the higher demand. When I disassembled the switch, I could see arcing inside that was causing the contacts to wear. Cleaning the contacts helped a little bit, but without a new motor, the arcing would worsen, and the switch would stop working again. Hopefully this two pronged approach will make this window work a little longer. Replace the switch you ask? Good luck finding one!

As I was working on the center console of the 365GT 2+2, i noticed the ashtray light was not installed or plugged in. Most people don't even know these ashtrays have lights that are wired into the headlight circuit, and turn on when you open the ashtray door.

Being able to see where to put out your coals in the dark was pretty important back then!
Reminder: If you have a Ferrari related project, car, or idea you'd like to explore, I'd love to talk to you. I can also help if you're thinking of buying or selling. This website represents what I love to do, and I would be happy to help guide you through the Vintage Ferrari world so if you'd like to do something together, let me know. It all begins with an e-mail!
Previous Restoration Day
Next Restoration Day
Home page