275GTS Update
6/18/13
275GTS Update
I stopped by the Panel Shop to see the progress on the bodywork. Francois had the guys at The Panel Shop working on a Maserati Tipo 151 that was heading to the Le Mans Classic (click here for details) so things got delayed a little on this car. Luckily, the Maserati left for France last week, so it's full speed ahead on the GTS.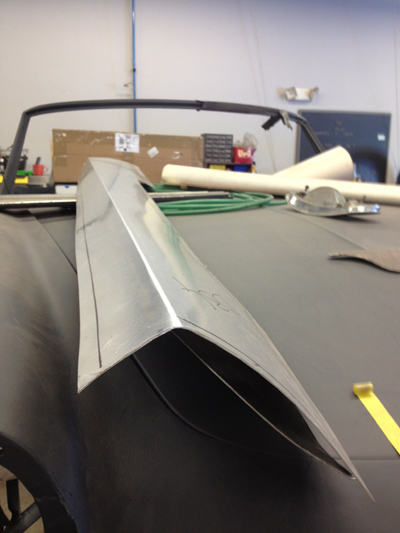 With the inner rockers completed, the outer skin was fabricated and ready for fitting. I'm always amazed how twisted the outer rockers look before they're mounted on the car. It's the subtle curves like this that is not so easy to make and weld in place. Lesser body men use a lot of filler to make up for their inability to make panels like this.

Small areas of rust in the rear fenders were repaired and prepped.

The nose on the GTS needed some repair as well, so the rusty crashed section was cut out.

A new section was formed and fitted for welding.

The marker light section was pulled out and repaired as well. When Mark is happy with the metal work and the way it fits to the bumper, we'll send the bumper back to the chrome plater so he can finish the plating.
Reminder: If you have a Ferrari related project, car, or idea you'd like to explore, I'd love to talk to you. I can also help if you're thinking of buying or selling. This website represents what I love to do, and I would be happy to help guide you through the Vintage Ferrari world so if you'd like to do something together, let me know. It all begins with an e-mail!
Previous Restoration Day
Next Restoration Day
Home page