365GT 2+2 Hood Pad
7/8/13
365GT 2+2 Hood Pad
I received a hood pad in the mail and it was time to install it on the 365GT 2+2. The car was already at the upholsterer's shop getting new carpeting and some interior work, so it was a perfect time to glue the hood pad in place.

After removing the hood, I masked the under hood area to prepare for a nice heavy coat of contact adhesive.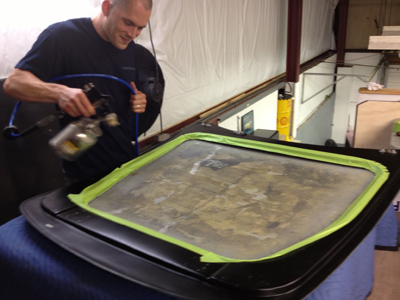 Justin Mekofer of Eurointeriors wielded his spray gun and coated both the hood and hood pad with glue.

HVL in the Netherlands made the hood pad for me after I sent Henk one to copy the pattern. The material he uses is spot on in color and reflectance, and I think was worth the international order and expense. He carries a line of interior products for Ferraris and is definitely worth considering if you want materials that were well researched and as correct as possible.
Reminder: If you have a Ferrari related project, car, or idea you'd like to explore, I'd love to talk to you. I can also help if you're thinking of buying or selling. This website represents what I love to do, and I would be happy to help guide you through the Vintage Ferrari world so if you'd like to do something together, let me know. It all begins with an e-mail!
Previous Restoration Day
Next Restoration Day
Home page