LeMons Again!
8/11/13
LeMons Again!
In between Elkhart Lake and Monterey, I was invited back to do a LeMons race with my friends at Team Punisher. A new(er) engine was installed in car # 405 after it coughed up a rod cap in Monticello. The spectacular video can be seen here. I met the guys in Danbury at 7am rode down in one of the tow vehicles bringing two car down to NJ Motorsports Park in Millville NJ.

Friday was all about building our paddock space, unloading all the gear, and getting the cars and drivers through tech.

Lemons racing is often about show more than go, even though there is some serious racing going on out on the track. Some teams have made creating some fantastic cars into an art form.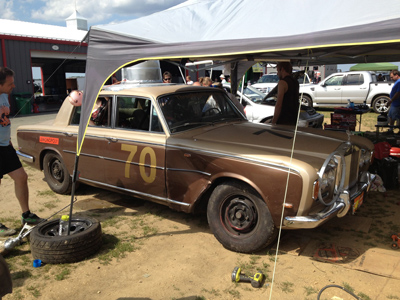 One group managed to find a $500 dollar Rolls Royce! It looked great on the track but pushing all that weight around the track didn't make it go very fast.

The guys from speedycop.com definitely out did themselves with an upside-down car. The amount of talent to pull this track car off was pretty impressive!

Our 917 car won its class last April so we hung all our hopes and dreams on this car. New brake pads were installed with the best set of tires. We were bumped up to "B" from "C" class due to our win, but we felt we could handle the faster run group. The 405 car remained in "C" because of its DNF.
The race started in Saturday and 917 immediately started having transmission linkage problems. It took three pit stops to finally secure the linkage from popping off, but it set us back into 20th place. The 405 car was holding its position near the top of the field, so we kept pushing. JJ, driving the 917, picked off car after car, and towards the end of his run, made up several positions. Soon, both cars were in the top 10 when disaster struck.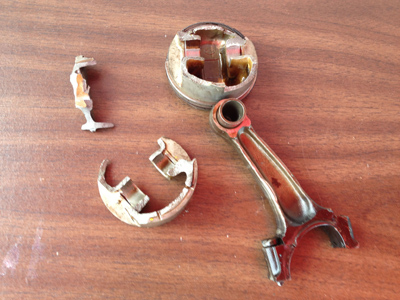 Car 405 radioed in to tell us the car was parked and leaking fluid. The flatbed dropped the car off at our paddock space and it soon became apparent from the large hole in the block that we broke another engine. Mark, our head mechanic, discussed our options with the team. Between the broken engine and other spare pieces we had in the trailer we had enough parts to put together one engine, but we all knew it would be a long night of work. Without a second car, we would lessen our chances of a good finish and drivers sitting out the race so it was soon decided as a team to start building another motor!
The blown engine would have to be removed and stripped of one piston, while the donor block would have to be separated from its bad head and holed piston. The good head he had in the trailer was readied for the transplant, and anyone who wasn't getting their hands dirty was cheering us on with beer and food!
At 1 o'clock in the morning, we had our Frankenstein engine installed, but she refused to start. We double checked all the connections and second guessed our sleep deprivation looking for a mistake. As the diagnosis wore on for almost an hour, the party atmosphere started to subside when we didn't have any answers to give to the revelers. As the paddock darkened, Mark and I started to face defeat when we talked over our issue. We guessed our problem could be related to a bad crank position sensor, and looked in our pile of parts for a good one. It was our last ditch effort to make this car start. I can't tell you how good it felt when that motor caught and fired up under our lone flood light. We were making a lot of noise at 2am in the Paddock, but knew there were smiles on the faces of all the racers in their tents because we all shared in this moment!
The next day, I was slated to drive first. The Frankenstein motor ran surprisingly well, but we decided to limit revs to 5000 rpm due to the mis match of used parts, and lack of confidence this motor would hold together. I had a couple off track excursions trying to get a feel for the car and the "Thunderbolt" course in NJ. I traded seats with our second driver so he could get a chance at the wheel, but soon we received word the 917 car had stopped running. We all knew what that meant, and waited for the the tow truck to confirm out fears. From the oil and coolant on the bed of the flatbed, we knew the fate of the 917 car, and sure enough #2 connecting rod was poking through the block.
Car 405 soldiered on with it's cobbled together engine and finished the race, so we were very happy with our results. Everyone would have loved to have won, but our personal achievements as a team made me proud. Now we just have to build from there.
Looking at the broken pieces there is definitely an overheating issue with the rod bearing on piston #2, Some members on the team think it's a oil starvation issue and want to baffle the sump, but I think we should work on getting more oil flow to the #2 rod bearing. What do you think?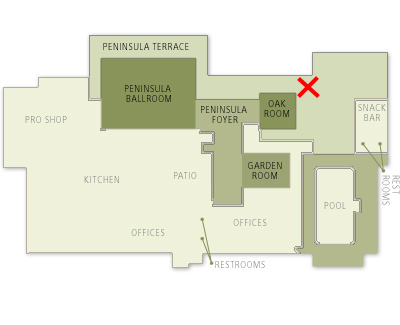 If you're going to be in Monterey for the Concorso/Quail/Pebble Beach Weekend, feel free to stop by the Third Annual Tomyang.net Cocktail Party at Quail Lodge on Thursday August 15th from 5:30pm-8pm. There will be food and a cash bar to kick off the weekend. It's a great time to meet some of the people from website, and make plans for the rest of the weekend. See you there!
Reminder: If you have a Ferrari related project, car, or idea you'd like to explore, I'd love to talk to you. I can also help if you're thinking of buying or selling. This website represents what I love to do, and I would be happy to help guide you through the Vintage Ferrari world so if you'd like to do something together, let me know. It all begins with an e-mail!
Previous Restoration Day
Next Restoration Day
Home page