Pebble Beach 2013
8/18/13
Pebble Beach
After a long day at Quail, I had a nice relaxing day at Laguna Seca. Subconsciously, I was burned out and proof of this was the lack of pictures I took at the track! I'm sure there were new and exciting things to see, but I think I hit my wall for looking at cars. Besides, I needed to recharge my batteries for Pebble Beach.

Sunday began at dawn meeting a driver to load out the four cam 275GTB. My last bit of responsibility on this car was to get it in the hands of the driver so it could head back to Los Angeles. Since I was leaving early Monday morning, the only time we could meet was before I headed down to Pebble Beach. My time these days during the Monterey Week has slowly evolved into more work for my clients than having time for a pure pleasure trip. Although I'm still enjoying myself, I'm finding less time to do all the things I usually do because of the extra responsibilities. It's all part of the ever-changing role I'm having with these cars.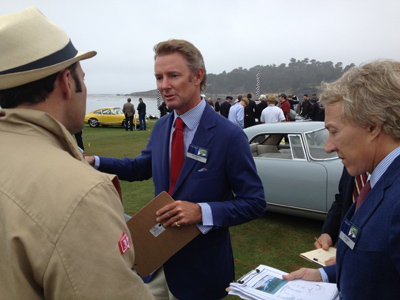 It took me nearly 90 minutes to finally get to David's PF Coupe parked on the lawn at Pebble Beach in the Post War Preservation Class. I arrived just in time when Simon Kidston was introducing himself as one of the class judges (center) along with Leigh Keno (right). Simon is a writer, and pretty big car broker based in the U.K. and Leigh is famous in the Antiques business and is often seen with his twin brother on the American version of Antiques Roadshow.

David did very well showing the car despite the Judges' intimidating reputations, and I assisted wherever I could. They seemed genuinely pleased with the car, and thanked us for bringing the PF Coupe to the show, but we knew the competition was pretty tough.

Although we were surrounded by celebrities and big names in the automotive industry, there was one person I was really looking forward to meeting and that was Ed Long, the previous owner of David's car. David and I agree this PF Coupe would have never made it here to the lawn at Pebble Beach without the loving care Ed gave 1747 for 33 years. David invited Ed and his wife Lynn to travel down to Monterey from Oregon to join us, and we were so happy when they agreed. Ed's been having some trouble with his legs from diabetes, but with the help of his wife, they found the strength to make the trip. I knew it was a monumental task for the Longs to make it down, so I was so glad when Ed spotted me in the crowd next to his "old girlfriend!"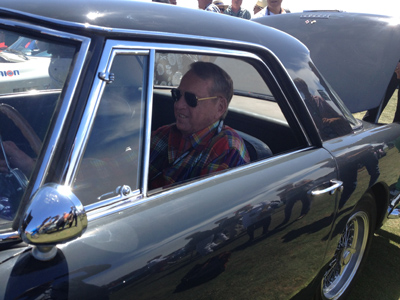 I had communicated with Ed for many years when he owned the car, helping him sort out some of the problems. Dealers and brokers offered him many times over the years to buy the car but Ed refused. He knew his car was considered pedestrian compared to TdFs and California Spyders, and would have probably been sacrificed as a parts car if he sold it to the wrong person. As we got to know each other, Ed realized I had a different agenda. He told me at the show that he and his wife agonized for months during our discussions to sell the car, but when David and his family arrived at Ed's house he knew in an instant he found the new home for his car.

We didn't win anything at Pebble Beach, but just presenting this old Ferrari and celebrating the associations we all had from this one car at this world class event was reward enough. I'm lucky to have been a part of this car and the families that have enjoyed it through the years. What a great day!
Reminder: If you have a Ferrari related project, car, or idea you'd like to explore, I'd love to talk to you. I can also help if you're thinking of buying or selling. This website represents what I love to do, and I would be happy to help guide you through the Vintage Ferrari world so if you'd like to do something together, let me know. It all begins with an e-mail!
Previous Restoration Day
Next Restoration Day
Home page