Brake Lines and Steering Parts
10/5/13
Brake Lines and Steering Parts
We had a nice 275GTB/4 at the shop for some repairs. This car was recently restored by another local shop, won a Platinum award at Cavallino, and was sent to us so the owner could drive and enjoy it. The restoration was good enough to win an award, but there were a couple of issues that needed fixing.

The bridge lines on the calipers were incorrectly routed and had the wrong finish. Vintage Ferraris have copper plated lines, but the bridge pipes were supplied by Dunlop and were not plated. Also, the lines should be routed on the other side of the caliper so they won't interfere with the wheels. Although these lines were not hitting the wheel, it would be safer if they were run correctly.

The left front caliper was routed correctly, but was bent a little sloppily and not tight enough to the caliper for clearance to meet our standards. We decided the best solution was to replace all the lines with new correctly routed lines with the correct finishes.

We keep a set of lines to used as templates at the shop so making up a new set was a matter of getting new lines, getting new fittings, and making new flares.

With the new lines installed, everything looked better and was a lot safer.

The rear lines were slightly smaller and were made and installed as well.

Inspecting the front suspension, we found a couple of bad grease seals. Luckily, we had a spare boot, so after removing the tie-rod end, we regreased and installed a new boot.

Another issue was a bent center link on the front suspension which was removed and straightened.

We were having some problem bleeding the brakes on a 365GTC/4 we have at the shop, and upon closer inspection, we found some of the flexible brake lines were blocked. The best solution was to replace all the lines with new ones.

C/4s have very tight access to the fittings on its brake lines, so in some instances it was easier to remove some of the lines and brackets to get better access to the flare fittings that were seized. Some of them required heat, but I eventually got them all off.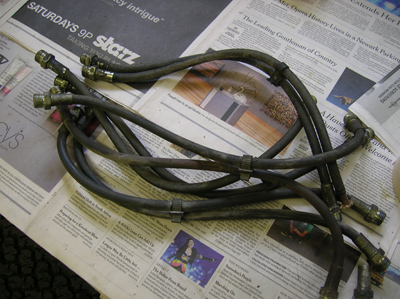 The 365GTC/4 along with some other 70s and 80s Ferraris have ATE brakes that have a complicated dual circuit brake system with dual brake lines into each caliper. The complexity of this system meant there were eight flex lines that needed to be replaced. Not fun.
Reminder: If you have a Ferrari related project, car, or idea you'd like to explore, I'd love to talk to you. I can also help if you're thinking of buying or selling. This website represents what I love to do, and I would be happy to help guide you through the Vintage Ferrari world so if you'd like to do something together, let me know. It all begins with an e-mail!
Previous Restoration Day
Next Restoration Day
Home page