Targa Florio Drama
10/6/13
Targa Florio Drama
I received an e-mail last week telling me there was a chance the Targa Florio was getting canceled! Chris, my friend who invited me on the Targa, said he heard rumors the event was having financial difficulties and was facing cancellation. I was a little skeptical that an age old event like the Targa Florio could be canceled, but as the week progressed the news was not looking good. It turned out there were two events happening during the Targa Florio week. One event was the "Targa Florio Classic" and a parallel event "Targa Florio-Ferrari Tribute" was going to be run by the Ferrari Factory. The event in jeopardy was the the Targa Florio Classic, but the Ferrari event was still a go. Chris had invited me and my co-pilot to drive a 1967 Porsche 911 in the Classic, but needed to find a Ferrari to qualify for the Ferrari Tribute Event! My initial reaction when the cancellation of the Classic Event was to go anyway. Time had already been set aside and travel plans had been booked. Refunds and credits are never easily redeemed, so I felt we were better off going to Italy and making the most of it with or without the Targa Florio. Chris was determined to drive the Targa and began the task of getting a couple of Ferraris entered into the Ferrari Tribute Event!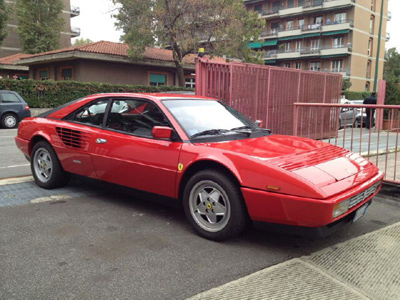 By the end of the week, not only did Chris arrange to have his 328 shipped to Palermo, but also secured a second Ferrari to salvage my trip to Sicily! My ride would be a 80s vintage 3.2 liter Mondial. I'm sure getting two Ferraris secured for a trip to the Italian island in less than three days notice was no easy task for Chris, but I was beginning to see how determined Chris was to getting everyone to the Targa Florio!
The event starts on the 10th of October and involves 3 days of driving over 1000 miles of Sicilian roads. After the event, I'll be heading to Maranello to see the Ferrari Factory which will be whole separate adventure! I hope to be posting in real time on Facebook while I'm there if I have the right technology to do so, but I'll at least tell you all about it when I get back!
Reminder: If you have a Ferrari related project, car, or idea you'd like to explore, I'd love to talk to you. I can also help if you're thinking of buying or selling. This website represents what I love to do, and I would be happy to help guide you through the Vintage Ferrari world so if you'd like to do something together, let me know. It all begins with an e-mail!
Previous Restoration Day
Next Restoration Day
Home page