Targa Florio
10/11/13
Targa Florio: Day Two
I was happy Bob volunteered to to drive again after yesterday's drive. He learned a lot about car dynamics, driving in all the different road conditions and although the learning curve was steep, the skills will come in handy with any car he drives in the future. We tend to drive our collector cars on warm sunny days so we forget how to control them in adverse conditions. The cars we drive in bad weather also tend to be modern cars, so good technology can make up for bad driving habits. Driving a basic car like the Mondial sharpened our skills and taught Bob things not to do in his 275GTB if he ever gets caught in a rainstorm!

As we left Katania, I caught my first glimpse of Mount Etna in the daylight. Unfortunately, when we were climbing up the summit the night before, it was pitch dark and raining! Perhaps someday, I'll return and see her properly.

With every mile we put on this Mondial, I grew more in love with the car. I know these cars can be real nightmares when the electicals start failing, but this one was very nice. If we had new tires, I really would have been able to give some of the other cars a good run for their money!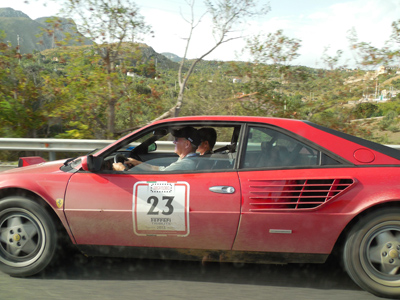 I was told the previous owner of this car was a police officer, and although he put very few miles on the car, he maintained her very well. All the signs showed this car was lovingly cared for, but we took her down to Sicily and had our way with her in a way that her previous owner would have never dreamed of. His old girlfriend thrilled us all for three days, and the only shame was the previous owner never knew what he could have done with her when he had her. We didn't damage a thing, and after a good washing, nothing was worse for the wear. In fact, I if cars could talk, I would bet she had a good time too!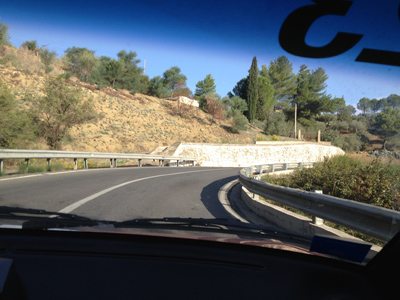 The back roads of Sicily were just fantastic. Some of them were pretty rough, but the road book clearly warned us when to watch out for the pavement. The combination of heavy rainstorms and perhaps even volcanic activity pushed the road surface in different directions. The modern Ferraris had a real tough time with some of the rough roads, carefully navigating the holes, drop offs, and craters with care. We didn't have a spec of carbon fiber to worry about damaging, so we were able to carry a little bit more speed. The stout oval tube frames of the old Ferraris really shined in these types of conditions.

Another fun aspect of the Targa Florio was driving through all the small towns on the tour. Hearing all the modern tuned exhausts reverberating off the buildings in the towns was great! One guy guy in a 458 used his accelerator pedal like a sound effects pedal, smashing it down every chance he got. Instead of being annoyed by this showmanship, the Sicilians egged him on. We may never get him to stop!

Lunch was at Castlello Chiaramonte in Siculiana. The break was 50 minutes, barely enough time to get a second helping of dessert!

After lunch I got back in the car for my day's worth of driving. The weather was sunny and comfortable, but once the adrenaline started flowing I soaked through my shirt! At one point, I was sandwiched between a 458 Stradale and a 612 Scaglietti. As the 458 passed me on a short straight, I decided to try and hang in with him. He had over twice the horsepower, but I wanted to prove to myself that it was more about driving skill than horsepower on these mountain roads. On every short straight, the 458 would explode to the next curve, but I would go deeper into the turns trying to keep up. The 612 couldn't get enough space to out accelerate me to the next turn, so the three of us drove spiritedly like this for a 30 minutes. Bob was awfully quiet during this stage, but he never vocally complained about my thrill seeking. When we stopped for a quick stop with the group, I got the nod from the modern Ferrari owners for keeping up with them. Have I mentioned I was having the time of my life?
The end of day two brought us back to Palermo. We stayed at the Hotel Igea, a turn of the century hotel built on the water. There was no time for relaxation however, the next day we were going to drive the historic route of the Targa Florio!
Reminder: If you have a Ferrari related project, car, or idea you'd like to explore, I'd love to talk to you. I can also help if you're thinking of buying or selling. This website represents what I love to do, and I would be happy to help guide you through the Vintage Ferrari world so if you'd like to do something together, let me know. It all begins with an e-mail!
Previous Restoration Day
Next Restoration Day
Home page