Annual Tomyang.net Pledge Drive
12/2/13
2013 Annual Tomyang.net Pledge Drive
It's time for the annual Tomyang.net Pledge Drive. I only ask once a year for your support of this website, but spend the rest of the year bringing you Vintage Ferrari content to enjoy. I try my best to keep content fresh and entertaining, but it takes more time than you can imagine. Your contributions during this Pledge Drive shows me your appreciation for this site. Donate whatever you feel is enough for the weekly, or sometimes daily, reason to check out Tomyang.net. Thanks for your support!
Here are some of the things that happened on this website in 2013:

2013 brought quite a few 330s to the shop and the year began with a head gasket job on a 330GTC. The car has been back with the owner since the summer, and so far, no complaints!

Another GTC arrived in February purchased by one of our customers. The car was stripped and readied for a bare metal respray. We picked a paint color for the car last week, and you'll be seeing more of this car as we put it back together.

Mark's 365GT 2+2 stayed with us for a few months while we prepped it for the FCA Show Field. There was a list of to-dos on this car that I had to complete to get it to near perfect status with only a few months to do it.

Speaking of shows, this year's Tomyang.net/Radcliffe car show was another popular success, and I look forward to doing it again in May.

One of Francois' long term projects came back to the shop after fresh paint and upholstery. This car has been apart for quite a while, and I was left to task of sorting it out and getting it back together. I'm looking forward to getting it back in the hands of the owner soon!

The 365GT 2+2 arrived in Wisconsin for the Ferrari Club National Meet with Mark driving it all the way from the East Coast. He went home very happy with the long coveted Platinum Award!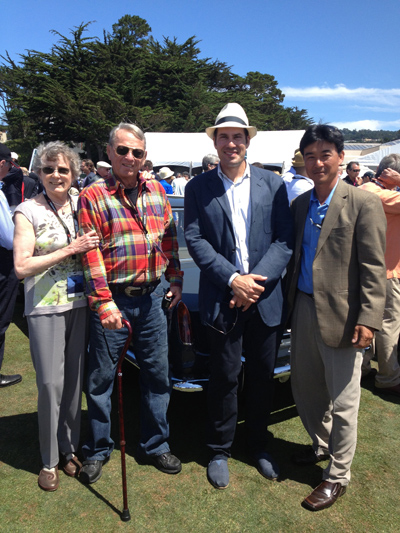 I joined David Eichenbaum in Pebble Beach to show the 250PF Coupe we've been involved with for the last several years. His car was accepted to Preservation Class at Pebble Beach, and we shared the honor with the previous long time owners.

This Fall, I was invited to attend the Targa Florio in Sicily Italy. I jumped at the chance and enjoyed a great drive in a great country.

I came back from my trip with a lot of work to catch up with, but I'm certainly not complaining. A 330 engine was in this fall for a full rebuild. Francois and I hope to have this car back on the road by early Spring.
Along with all the work at the shop, I spend a lot of time fielding e-mails and requests for help with owners and their Vintage Ferraris. I am in constant contact with other restorers, shops, and suppliers to learn the new techniques and manufacturers. I try my best to share what I learn with everyone that visits my website or contacts me privately. Think about the value this website is to the ownership of your Vintage Ferrari, and I hope you'll contribute!
Donations can be sent via Paypal through clicking this button below, or sent to my paypal account: tom@tomyang.net
You can also send checks made payable to Tomyang.net LLC
Tomyang.net LLC
P.O. Box 36
Hollowville, NY 12530
Thanks and I look forward to a new year with new cars and new adventures to share!
Tom Yang
Reminder: If you have a Ferrari related project, car, or idea you'd like to explore, I'd love to talk to you. I can also help if you're thinking of buying or selling. This website represents what I love to do, and I would be happy to help guide you through the Vintage Ferrari world so if you'd like to do something together, let me know. It all begins with an e-mail!
Previous Restoration Day
Next Restoration Day
Home page