GTE Differential
12/5/13
GTE DIfferential
A car we've had all too long at our shop is this 250GTE. When the owner bought this car many years ago, he heard a loud growl from the rear differential. Francois found the pinion depth was set incorrectly, and was the source of all the noise. Unfortunately, by the time the gears were set correctly, the damage to the ring and pinion had been done. The growl was still there, and the owner knew eventually a new ring and pinion was on the list of purchases. Fortunately, new ring and pinion gears are available in Europe, but when Francois disassembled the differential, he found damage had also been done to the spider gears inside the differential. These gears were not available.

The short story was we found replacement gears, but the long story was it took searching all over for these gears and several months when this car sat idle. I was happy to finally have the differential back together, and ready to go back in.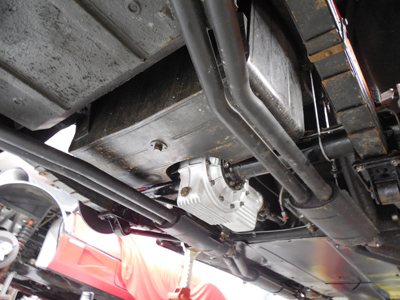 Pulling the rear springs back into shape after being relaxed for so many months was no easy task. A combination of a spring compressor, pry bars, and hydraulic jacks got the parts to line up.

A very crucial part of the rear suspension on a Ferrari are the axle straps. These have to set so the shocks can be installed at full extension, but not too long so the rear springs become too relaxed. Getting these set incorrectly will make your day a lot longer!

Once the axle was in place, I installed the hubs and the brakes.
Reminder:
Don't forget the Annual Tomyang.net Pledge Drive. Your once a year contribution helps support all the work I put into Tomyang.net. Please show you appreciation and help me keep this little part of the Internet going! Thanks for all your help.
Donations can be sent via Paypal through clicking this button below, or sent to my paypal account: tom@tomyang.net
You can also send checks made payable to Tomyang.net LLC
Tomyang.net LLC
P.O. Box 36
Hollowville, NY 12530
Previous Restoration Day
Next Restoration Day
Home page