Various 330 Issues
12/14/13
Various 330 Issues
The license plate brackets were finished by our metal fabricators last week and I had to fit them to the car before we sent them out to be painted to match the color of the car.

I suspect the original brackets were probably lost when the car was disassembled for paint, and whoever assembled the car simply drilled new holes in the body work to mount just the light fixtures. You can just make out the original holes by the license plate for the missing brackets.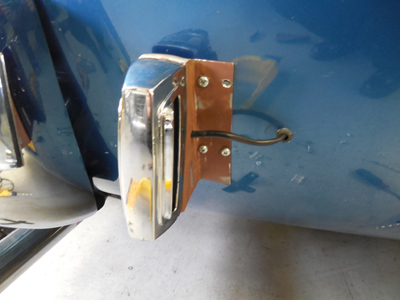 The new brackets lined up with some of the original holes, but I'll have to fill some of the extra holes that were drilled incorrectly. Now that everything is lined up and mounted, I can send the brackets out for painting.

We had a brake booster seize up on a 330 we have at the shop, and in the process the front brakes overheated. The rubber dust boot melted, and the caliper seal started to leak.

The only solution was to replace all the front seals. We have a air fitting that has been threaded to fit the Dunlop calipers to make popping the pistons out easy.

I brought an engine to the shop for a rebuild. Unfortunately, this will not be a standard rebuild as the engine suffered a catastrophic failure.

A valve dropped inside a cylinder and proceeded to pound the head, valves, and piston to pieces. The damaged got worse when the piston disintegrated and rod was let loose to continue its destruction.

The end result was a broken cylinder liner when everything eventually stopped turning.
This was a fresh engine rebuild by another shop, and we may never know exactly how this all happened, but Francois and I are going to try to put all this back together. Luckily, the crankshaft survived the damage, but at least one liner will be needed, and a lot of repairs to get this all back together.
Reminder:
Don't forget the Annual Tomyang.net Pledge Drive. Your once a year contribution helps support all the work I put into Tomyang.net. Please show you appreciation and help me keep this little part of the Internet going!
Thank you all who have already donated. My first post was back in July of 1999, and 14 years later, this site is still going strong thanks to your readership and support. I've been around longer than Google. I've even been here longer than F-chat!
Donations can be sent via Paypal through clicking this button below, or sent to my paypal account: tom@tomyang.net
You can also send checks made payable to Tomyang.net LLC
Tomyang.net LLC
P.O. Box 36
Hollowville, NY 12530
Previous Restoration Day
Next Restoration Day
Home page