A Ferrari Under the Tree
12/23/13
A Ferrari under the Tree!
A good customer of mine called me to see if I could help him find a 400GT. The story was a friend of his always wanted one, and was ready to buy one. Although I've worked on these cars, they are at the limit of our scope of expertise at the shop. They are the least expensive V-12 Ferrari available on the market, and have a dedicated following, but many of these cars were neglected and therefore become very expensive to maintain. I was willing to help and hoped to find a good one by starting my search on the Internet.
Ferrari began making these cars in the early 70s with the 365GT/4 2+2. It was a new design by Pininfarina moving away from the organic shapes of the 60s to the more angular look popular with designs from Bertone. The four cam 4.4 liter engines came with side draft Weber DCOE carbs to clear the hood line of the car, and was similar in mechanics with the 365GTC/4. The next model with the same body was the 400GT 2+2 with a slightly larger engine, and many were fitted with an automatic transmissions. Keeping up with tightening emissions requirements, Ferrari installed CIS injection the the later 400s. The final model built into the mid 80s was the 412. These were the last 2+2 Ferrari until Ferrari introduced the 456 in the 90s.

I found a 412 in Long Island NY for sale through a dealer. It was close enough for me to drive out to see the car and see if it was worth their asking price.

This car was pretty clean, and seemed to drive nicely. I was amazed all the switches and electrics worked on this car. The parts Ferrari used for these pieces back in the 80s had a tendency to break and replacements are either not available or expensive to find.

Friends of mine in the Ferrari business who work on the Bosch CIS injection feel this is pretty simple system, but I never have a good feeling when I look in the engine compartment of one of these cars!
Although this car was nice car, and probably a good example to buy, I decided to advise our buyer to keep looking. During this inspection, I realized whatever car I approved it would probably be showing up at our shop sometime after the purchase. Ferraris break, just like all 30+ year old cars, so I needed to find a good reliable version that I was comfortable working on, not something that would destroy the dream of a budding Ferrari owner, or make me part of the nightmare!

I decided to call my friend James Patterson at Norwood Performance in Dallas. James has a soft spot in his heart for these cars, and has worked on several in his shop. Sometimes finding a good car requires a little more work than listening to dealers sell you something they have in inventory. A car immediately came to mind and James introduced me to the owner of a 400GT. It was a 5 speed carburetored car, which was what I was looking for. It had been owned by the same owner for over 20 years, and regularly serviced by Norwood.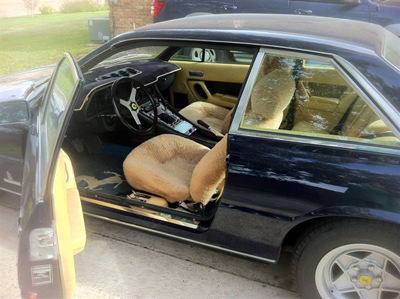 When I saw the pictures of the sheepskin seat covers, I worried a little bit, but I was assured the seats were not split and were nice underneath. These covers were all the rage in the 80s, but it's been 30 years since these were popular so I'll be sending back to the 80s!

The engine compartment made me feel much better to be back in my comfort zone with carbs and a regular ignition system. Norwood worked on the car. James vouched for the owner. It was turning into a perfect "gentleman's deal" where I didn't even have to fly to Texas to inspect the car! We had the car purchased and delivered just in time for Christmas. Does a bell ring somewhere when a new Ferrari owner is minted?

About the same time I started looking for a 400GT, I was contacted by someone looking for a 365GT 2+2. He was considering a 365 being offered by Gullwing Motors in Queens New York. Peter Kumar has risen to be a real mover and shaker of not only Vintage Ferraris, but all all makes and models. He advertises in practically every automotive magazine and I'm told will buy practically anything! His reach tends to find all the barn finds in the country, and the Ferrari being offered here was better than that.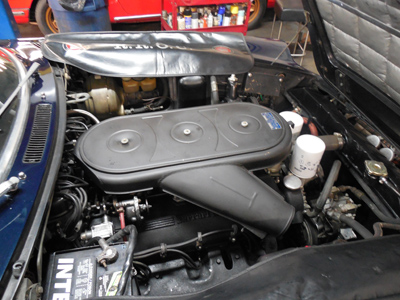 The potential buyer sent me down to Queens to take a closer look and perform a Pre Purchase Inspection. The compression numbers were decent and oil pressure looked good. There were a couple of mysterious clunks coming out of the front suspension during my test drive, but generally speaking, it wasn't half bad.

There were some cosmetic issues like a tear in the dash.

The biggest concern was the paint. It looks like it was painted several years ago over the original lacquer paint where the paint surface was cracking. The different layers of paint were shrinking at different rates, so the whole car was covered with fine cracking.

Along with the crazing, there were a few normal rust issues on the doors. Why the car had the lower rockers painted a different color made me question if it was hiding an older repair, but it would take more exploration to see.
We decided it was best for the buyer to see the car for himself. Luckily he lived an hour away and came down to the shop to see the car in person. We took the car out for a drive, and I explained the issues. Often times when I do a PPI I also take into account what the buyer has for expectations. One man's "patina" is another man's worn out car. It's very hard to be objective on cosmetics when everyone sees things differently. I sometimes know what my familiar customers expect, but I never assume anything.
The buyer and I met and talked extensively about the car and what he was looking for. As we talked about the price of the Gullwing car, and the cost to make the car what he wanted, I began to see maybe this wasn't the car for him. I thought this was a good car, but just not for this buyer. I also started to think I knew of the perfect car for him that would meet all his expectations, but it would require a little more work on my part. The car I was thinking about belonged to a customer of mine, and he had mentioned he was thinking about selling , but didn't seem serious at the time. I had to revisit the idea to see if a deal could be stuck.

It took a few months to get the buyer and seller together, but a deal was struck and the new owner received delivery of his car just last week. It's always nice to keep good cars "in the family" and I hope to continue caring for this Queen for years to come!
It was fun to help two first time Ferrari owners see their dreams come true. What a way to bring in the Holidays!
The new owner of the 365GT 2+2 sent me this nice letter, and you can really feel the excitement!
Dear Tom,

I just wanted to thank you for helping me join the Ferrari club. Owning a vintage one has always been a dream, one I was not sure that I would realize. Growing up it was always the Testarossa pictures and 308's that I saw and liked, but the vintage V12's that is what I loved but never, ever thought would be a reality.
I started looking about a one and a half years ago through the usual channels. Newsletters, dealers both near and far from where I live, and the internet were the usual subjects. It was uncanny that I seemed to always be a day late and sometimes a dollar (maybe more) short.
We first met when I found a car that needed an inspection. It looked good in the pictures and I thought it could be the one. We talked on the phone and I explained what I was looking for, and you provided very sound input. I had heard that you knew these cars like the back of your hand and were very trustworthy. At that point you did a PPI on the car and we met in person right after that at the car. You were spot on, not only about that car but more importantly on what I needed and wanted. I passed on that car, it had a significant number of needs, and could not be more happy about that. We talked about a few cars that were around and nothing really seemed right. Each time you nailed what was wrong about each car that came up (at least why it was the wrong car for me). You also said not to worry, that you would find me a car. I had heard that before from several other well known dealers, and they had not been able to find me a car.
It really just came to a little waiting and a very snowy day in the northeast when we met to look at my car. We had talked about it for a little bit before and waited a few months to look at it. I wasn't sure if it was the right fit, but you were. I wanted a clean driver, not a show car. I wanted something that I could have fun with. This car is that and so much more. You just know these cars, and you know where to find them. I saw the car and I thought it was just what I originally wanted, a clean driver.
The deal was very easy, much easier than I thought it could ever be. Saw car on a weekend, deal was done and car delivered on a Thursday. And that was when my Ferrari adventure began. Never owning a vintage Ferrari starting it was an adventure, and getting into my garage was an adventure. Memorable, and I wouldn't want it any other way. Through the whole process you were constantly available, actually instantly available, making sure any question and any issue (really issues in my mind since the car was perfect) was handled. I have not seen customer service like this in quite some time.
Now that I have my car I can say it is truly what I wanted. It is the perfect car for me. I thought I wanted a driver, a car I would never show. Well, I was wrong. This is a driver, but it is also a car that I feel I could drive to any show and present at a preservation class, since it is a survivor. In one word, the car is AWESOME, in every sense of the word.
I don't know how you do it, how you know these cars so well, how you know where these cars can be found. I do know that when my car needs her first service, I know where I am sending it.
I can't thank you enough for your help and guidance through this process, and letting me fulfill a childhood (well ok, teenage) dream. I know of very few people who are as knowledgeable, trustworthy, and honest in this world.
Thank you so much and have a wonderful holiday season.
Aron M. Green MD

Reminder:
With the last full week of December coming up, this pledge drive will be coming to a close. Thank you to all the contributors thus far. Your support of this website is what keeps me motivated to keep this site active and share all the Vintage Ferrari Content I get involved with. Everyone in this community does their part to make this little part of the Internet a fun place to be and I'm proud to be a part of it!
Donations can be sent via Paypal through clicking this button below, or sent to my paypal account: tom@tomyang.net
You can also send checks made payable to Tomyang.net LLC
Tomyang.net LLC
P.O. Box 36
Hollowville, NY 12530
Previous Restoration Day
Next Restoration Day
Home page