Chasing Down a GTE
2/20/14
Chasing down a GTE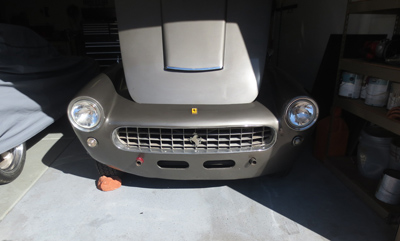 I got a call from a friend of mine in Arizona with a lead on a GTE. It was a running a driving car, and my friend was thinking about buying it. He described the car to me and we discussed what it was probably worth. I told him if he decided to pass on the car to please let me know so I could give it a shot at buying the car.
A day had passed when my friend called me in a state of shock. The seller stopped returning my friend's calls and when he finally answered the phone he said the car was sold! The seller said he had only told one other person he was selling the car and that person came out from New York the next day and bought the car on the spot. There was only one person that does business like that, and that had to be Peter Kumar of Gullwing Motors! In the past several years Kumar has become a force to be reckoned with and has really put the competition to shame. Gullwing advertises everywhere and Kumar is often the first one at the car when the owner decides to sell. After consoling my friend, I decided to try a new tactic. I called Peter Kumar and asked him what it would take to buy the car he just bought out of Arizona. Since I knew what he paid, we agreed to a fair price and I found myself accepting delivery of a GTE!

It was a cold day in the Northeast when the car arrived, and I was excited to see what I bought. It was missing some pieces like the correct bumpers, but it was generally all there.

The car has a hood scoop that looks original to the car and I'll be showing more details of it soon.

The interior was done in vinyl many years ago with nylon carpets, and there's a strange slot cut out of the steering wheel. I had all sorts of plans for this car, but the first task was to get it to run a little better. As the prices of these cars rise higher and higher, I started to think about how cool it would be to keep it in rough condition like this and use it as is. The cheap "Maaco" paint job and black vinyl interior could really throw the uninformed off the fact that nice examples of these cars are pushing into the high $300K range! Another thought on the hood scoop was to make a cold air box for the scoop like the ones you see on competition SWBs…but before I could dream up more plans on this car, one of the people on my personal list of buyers made me an offer I couldn't refuse. I'll still get a chance to get this car tuned and drivable, but it's up to the new owner now what to do with this neat car!


Save the Date! The 7th Annual Radcliffe/Tomyang.net Spring Car Show Saturday May 3rd 2014 celebrating the 50th Anniversary of the Introduction of the 330GT!
Spectators are free, but Registration of show cars are limited for a small fee. Details can be found on the Radcliffe Website.
You can also Richard Garre at:
Radcliffe Motorcars
12340 Owings Mills Boulevard
Reisterstown, Maryland 21136
Phone: 410-517-1681
Reminder: If you have a Ferrari related project, car, or idea you'd like to explore, I'd love to talk to you. I can also help if you're thinking of buying or selling. This website represents what I love to do, and now it's how I make a living, so if you'd like to do something together, let me know. It all begins with an e-mail!
Previous Restoration Day
Next Restoration Day
Home page