I'm a Chump
5/26/14
I'm a Chump
Along with my work chasing down Ferraris, fixing them, and showing them, I belong to a low budget race team that runs a pair of Peugeot 405s for fun. I ran with these guys last year in LeMons, but this year we decided to try our cars out in Chump Cars.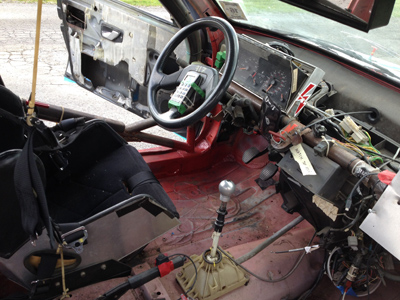 Our cars are stripped out front wheel drive passenger cars, but I've gained a new respect for these little French cars. They may not be the fastest cars on the track, but they've proven to be durable and relatively reliable despite the abuse we've dealt them. The first couple of seasons were rough, with several blown engines and small mechanical failures, but each problem was met with a solution, and we're finally reliable enough to run two endurance races without a single engine failure.

The team decided to enter the Chump Car series simply because they were running at tracks we wanted to drive, and this weekend was at Watkins Glen. With a new sanctioning body came new rules to obey, so after our cars were run through scrutineering, we had to make a couple of changes, like roll bar heights. Mark is seen here welding into the night making the appropriate mods.

Most of the team arrived early so we could walk the over 2 mile track located in the Finger Lakes Region Upstate New York. We were all very excited to be walking on hallowed ground that has hosted some of the greatest drivers and race cars on these very turns. Who cares if our cars were $500 dollar POSs, we were going to drive on the track at Watkins Glen!

Chump Car is a step up from Lemons, and you definitely felt it at the driver's meeting. Gone were the young hipsters and their energy drinks and in their place were the middle aged track rats out to beat your best time. There was still the secret society of the "racer brotherhood," and a little bit of extraneous graffiti on the cars, but these guys were here really only to go fast! I tried to exude a little more testosterone to fit in, but I kind of missed the "lollapalooza" factor!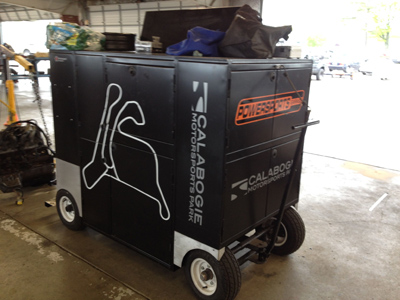 There was also a lot more money evidenced from the tool boxes for some of the teams costing more than our whole team budget! Chump Cars still promote cheap cars, but are more lenient on what is brought to the track. There are also exception classes that allow you to run whatever you dare to track next to cars like our Peugeot 405s!

After three days of racing and 20 hours of track time, the two 405s performed admirably. Our only repair was a frayed throttle cable that we managed to fix with a trip to Walmart for some bicycle parts. The oil pan baffles installed last year solved our oil starvation issues so no more overnight engine swaps. I got about 5 hours of seat time, and had a blast. Can't wait to do it again!

Reminder: If you have a Ferrari related project, car, or idea you'd like to explore, I'd love to talk to you. I can also help if you're thinking of buying or selling. This website represents what I love to do, and now it's how I make a living, so if you'd like to do something together, let me know. It all begins with an e-mail!
Previous Restoration Day
Next Restoration Day
Home page