Alfa Romeo TZ
6/1/14
Alfa Romeo TZ
A Ferrari customer of mine bought a new car to add to his collection and was bringing it to the Greenwich Concours in Connecticut when he asked if I wanted to join him. He lives near me and we've "car-pooled" down in years past so it was an easy decision for me to make. This year's ride was a 1964 "Alfa Romeo TZ", sometimes called a "TZ1" since subsequent variations were "TZ2," and "TZ3." These cars were light weight race cars with very little driver comforts, but has a nice rorty 1.6 liter four cylinder engine fed by a pair of 45DCOE Webers. Blasting through the back roads to Greenwich was great fun.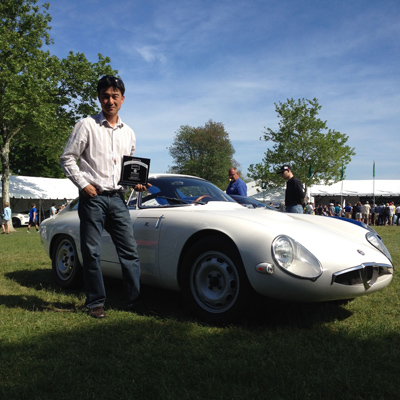 After a long day in the sun, Bob won "Best Car for the Mille Miglia," which was ironic because a 1964 Alfa TZ is NOT eligible to enter this European Rally because the cut off is for cars older than 1957! I certainly wasn't going to argue the point, and graciously accepted the award. Bob had to leave early to catch a plane out of town, and left me with the keys to the car to drive back upstate!
Now, I know what you guys are thinking, "That lucky SOB!" I'm willing to accept half of that blame, but the other half of me is not really comfortable driving a million plus car in Sunday afternoon traffic on I95! I was honored there was a level of trust to having me drive the TZ home, but it's the other drivers we have to worry about! After I managed to safely get the car off the Interstate, I did find the right roads for this car to come alive. That's when I became that lucky SOB!