LA GTE Registry/Tomyang.net Party
7/30/14
LA GTE Registry/Tomyang.net Party
I went on vacation with my family to Los Angeles California, but while I was out there, I made sure I left time to do some fun Ferrari activities.

Tom WIlson, the keeper of the 250GTE Registry, generously offered his house as a meeting place for Tomyang.netters and Vintage Ferrari fans in the LA Area to share in a drink and some food in Culver City. Zac Dugger decided it was worth the effort to trailer Wilson's GTE up from his shop in Oceanside so there was physical proof his car was making good progress in its restoration. Thanks Zac, it was nice surprise!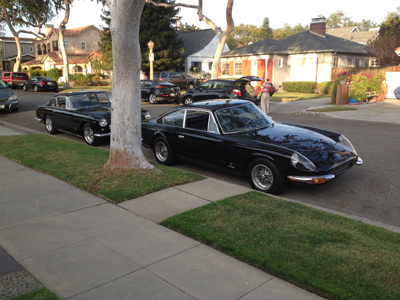 Mike Kerns, my LA host, drove me over in his very nice 365GT 2+2. Ken also drove his 250GTE over an hour join us as well. I have to say, the front of Tom's house looked very coordinated with the black and white Vintage Ferraris. Very cool!

The party started off with the arrival of a very special guest, long time Ferrari collector, broker, and enthusiast, Ed Niles. Many people have speculated that Ed may have been involved with over 100 Ferraris starting all the way back to early 60s, and Ed would tend to agree. Along time Ferrari fan, and friend of Ed's agreed to bring the 90 year old gentleman to our little party, and I was very excited to meet them both in person for the first time.
I managed to stop playing host for a few minutes and ask Ed how it all started with his connection with Ferraris. He told me in 1959, he and his wife were invited to tour Europe with his in-laws. The advice from his car friends was to buy something in Europe, import it to the US, and sell if for a profit in the States. With that in mind, he looked at several cars during the trip, tyring to buy something like a 300SL, but had very little luck. On the last day of his trip, he found an Europa in Rome (0331EU) "Was found with the help of my friend Roberto Goldoni, who took me to the dealer. Roberto had been an exchange student living with my in-laws in L.A. for a year, but a Roman through and through. Later, the chief pilot for Alitalia." The seller took him for a drive in the city, with the Romans cheering "Ferrari, Ferrari!" Maybe it was the cheering, maybe it was the sound of the V-12 echoing in the streets of Rome, but he bought the car. When he finally got it home, he drove it for a while, and sold it for $1000 dollars profit. which in 1959, that was a pretty tidy sum. I think the hook was set, and he never looked back!

Tom's house was the perfect place to spend an evening talking cars and sharing old Ferrari stories. I only wish we had more time, but it was great to meet new people and reaffirm friendships over some food and drink. Thanks Tom Wilson for making it all happen!
It's time to start thinking about Monterey! For those lucky enough to score tickets to Quail, they will be going on Friday the 15th, but his year the schedule has changed a little bit where Concorso Italiano will be held on Saturday the 16th of August and Pebble Beach for the usual Sunday the 17th. I plan to host my cocktail party on Thursday night, the 14th at the back deck of Quail Lodge from 5:30pm until 8pm, and I hope you can join us.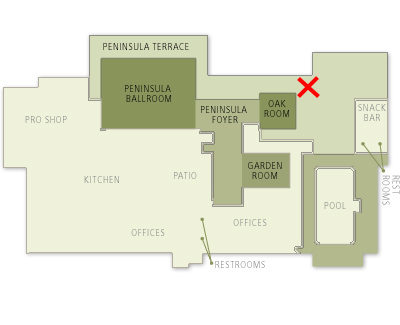 There will be appetizers and an open bar, and the location allows us to watch the cars load onto the greens at Quail Lodge the night before the show.
My plans this year is to be at the Bonhams Auction for the preview days and Auction on Friday the 15th. Mark Dempsey is selling his Platinum winning 365GT 2+2 at Bonhams, and will be be there to root him on. Saturday will be spent at Concorso as this will be the first year I will be able to enjoy this show without the distraction of the Quail Show. Sunday will be Pebble Beach, but sometime during the weekend, I'll have to find time to go to the track. As my schedule changes, I'll let you know, but please let me know if you want to meet up and we'll figure it out!
Reminder: If you have a Ferrari related project, car, or idea you'd like to explore, I'd love to talk to you. I can also help if you're thinking of buying or selling. This website represents what I love to do, and now it's how I make a living, so if you'd like to do something together, let me know. It all begins with an e-mail!
Previous Restoration Day
Next Restoration Day
Home page