Pebble Beach 2014
8/17/14
Pebble Beach 2014
I showed up fashionably late, about an hour later than when the Hagerty Dawn Patrol Hats were given out. A group of my friends were giddy with excitement sporting their free hats in reward for getting themselves to Pebble Beach before even the most committed car enthusiasts. I guess with the rising cost of attending Monterey year, it's one thing that you can get for free that's a big score!

I managed to see most of the cars before the crowds arrived. I spent more time chatting with owners and friends and less time picture taking!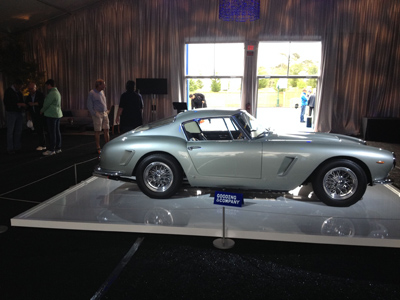 The big event of Sunday was in the evening during the Gooding event. A special 250SWB was coming up for sale, and I was very interested to see how it would do.

I know the previous owner of this 250SWB, and 3113 was even at one of my parties. Here it was parked next to my 330 America!
The current owner was expecting over 12 million for the car, but the bidding stopped at 10 million! Where has this market gone when an owner wouldn't accept a bid of 10 million for a Short Wheel Base Ferrari? Those who were watching and gaging the market intently were all wondering if the high end of the Vintage Ferrari Market was showing signs of peaking. Only time will tell, but it sure feels familiar!
Reminder: If you have a Ferrari related project, car, or idea you'd like to explore, I'd love to talk to you. I can also help if you're thinking of buying or selling. This website represents what I love to do, and now it's how I make a living, so if you'd like to do something together, let me know. It all begins with an e-mail!
Previous Restoration Day
Next Restoration Day
Home page