Looking Back at Mark's 365GT 2+2
8/24/14
Looking back at Mark's 365 GT 2+2
I recently was involved in the sale of a Ferrari 365GT 2+2 owned by Mark Dempsey. He originally bought the car at auction about 10 years ago, and went full circle by selling it at auction again. I met him in the third year of ownership, and here's a look back at the fun times we had with that car.

I first met Mark Dempsey and his Wife Lynn at Watkin's Glen. They drove their car up from Maryland and were excited to show their car at their first Ferrari Club of America National Meet. It was my 330 America's debut as well, and I was in good company.

Mark and I soon became good friends, and we talked about going to Cavallino '08. I'm always up for a road trip, so it didn't take long to plan a road trip from his home in Maryland to Palm Beach Florida!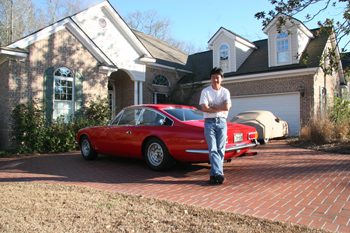 One trip home, the adventure only got more interesting with an encounter with a trailer hitch on I95! We managed to overcome the obstacle and proved driving an old Ferrari long distances was no big deal!

The next big road trip was to the FCA National event in Wisconsin '09. We caravaned out with a couple of cars, and stopped at Hillary Raab's house on the way up. Great people, great times, great memories!

The next big trip was to Cavallino in Palm Beach 2010. Mark and Tom Kizer in their 365s, and me in my my 330 America. Tom K won a Platinum and Mark won a diminutive gold. I'm certain this picture was the impetus for Mark to continue to chase that elusive Platinum for his Queen!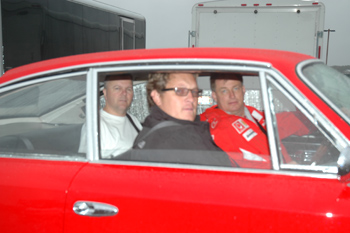 The next trip with Mark's Queen was in the summer 2010 for the FCA National Event in New Jersey. We rented a town house at the track and had a big guy's weekend. Lots of fun!

The next time I saw Mark's car was after he drove it to California for a bare metal respray in the Spring of 2013. Zac Dugger painted and his painter Peter Hognes returned the car to her original color and it looked great!

I spent the next couple of months getting the car ready for the FCA National event in the summer 2013. Mark finally won his Platinum!

Even after winning at the FCA National, Mark still wanted to chase that elusive Platinum at Cavallino. So we improved the car a little more and headed down one more time in January 2014.

After winning two Platinum Awards, driving it across the country both north, south, east and west, Mark decided it was a good time to sell. After the final sale at Bonhams, Mark made over six figures on his car, even after adding up the expenses of the paint, interior, transmission rebuild, and regular maintenance on the car. Another way to look at it is Mark got paid to own, show, and drive a Vintage Ferrari for 10 years and 30K miles! Not a bad deal. Stay tuned to find out what's next in Mark's Ferrari adventure!
Reminder: If you have a Ferrari related project, car, or idea you'd like to explore, I'd love to talk to you. I can also help if you're thinking of buying or selling. This website represents what I love to do, and now it's how I make a living, so if you'd like to do something together, let me know. It all begins with an e-mail!
Previous Restoration Day
Next Restoration Day
Home page