275GTB/4 Ignition Switch
8/28/14
275GTB/4 Ignition Switch
A nice looking Four Cam 275GTB was delivered to the shop from The Collector Car Garage. The car needed a fluid change, and repair to the ignition switch.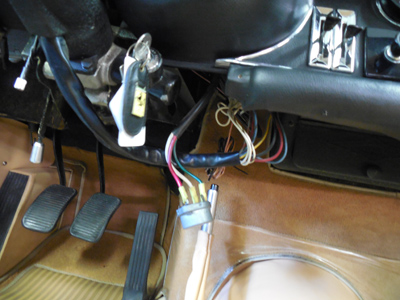 The original lock set was not operating the switch correctly, forcing the owner to start the car with a screwdriver until a new lock could be installed. It's not cool when you're rolling onto a car show, and the only way to start your Ferrari is with a screwdriver!

The best way to access the ignition lock was to pull the steering column. Several things had to be disconnected to get it out:
1. the three multi pin connectors
2.carbon brush for the horn switch
3. ignition wiring
4. steering column u-joint
5. three bolts holding the steering column in place.

With the steering column on the bench, it was easier to access the sheer bolt that secures the steering column lock/ignition switch to the rest of the steering column. If this threaded portion of the bolt was seized, I would have to drill it out, but luckily, I managed to back it out with several light taps from a drift.
Set the Date! Tomyang.net Fall Party
October 25th, 2014 1pm-5ish
Westbrook, CT.
Vintage Ferrari gathering in New England. Come join Tomyang.netters for an afternoon of fun, food, and Ferrari talk!
Please contact me to RSVP and for directions to the party!
Reminder: If you have a Ferrari related project, car, or idea you'd like to explore, I'd love to talk to you. I can also help if you're thinking of buying or selling. This website represents what I love to do, and now it's how I make a living, so if you'd like to do something together, let me know. It all begins with an e-mail!
Previous Restoration Day
Next Restoration Day
Home page