Fighting with a Boxer
9/3/14
Fighting with a Boxer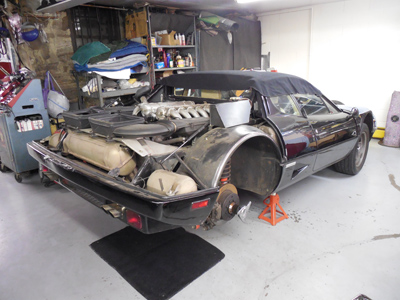 A long time customer of Francois' brought his 1982 injected Ferrari Berlinetta Boxer to the shop for what is commonly called a "Major Service," which largely centers around a timing belt change. I have claimed for a long time we try our best to work only on carburetored cars, but occasionally either from a moment of weakness, or a favor for a friend, we agree to work on a "later" car. We are very fortunate to work on cars we are passionate about, and as Ferraris moved on to the modern world of manufacturing, our interest in these cars wanes. I often struggle with wanting to work on a very small group of cars Ferrari built until the early 70s, or broadening my scope to the later cars. I guess the amount of available work will dictate that decision, but working on one of these cars every once in a while can't hurt…can it?
The "Major Service" is the monkey on the back of any Ferrari owner with a timing belt car. Some Ferraris like a 308 can have a major service performed though the right wheel well, but in the case of the Boxer, it requires a complete engine removal. With a service interval of about 5 years, skipping this service will net disastrous results. I've heard of people extending a belt change for these cars, but I'll leave that discussion to people who have more time to "chat!" Since Ferraris rarely get driven like a Honda with a timing belt, the time interval often elapses far sooner than the mileage interval. Two things often happens to a "belt car" when it approaches the timing belt change, either it gets sold or it gets parked until the owner can stomach the cost of this major service. In the case of this car, it sat for over a year waiting for its over due belt change.

There are bunch of things that need to be disconnected so a Boxer engine can be removed. On an injected car, the fuel distributor is an additional component that has to come out. Many shops have different methods, and I'm certainly not teaching the one right way, but we like to disconnect the banjo fittings from the distributor to make pulling the engine easier. Whatever the method, the fuel distributor has to be unbolted so the valve covers will clear the unit. If Ferrari had compensated a 1/4 inch of clearance, these units could have stayed in place!
Working on this car, I marvel how little regard was given to making this service easier for the mechanics. I'm sure this is something mechanics struggle with all sorts of cars, but I'm amazed at all the little clips, hoses, and fasteners that are in hard to reach areas that could have been installed differently so this service could go quicker.

The flat 12 cylinder engine is mounted on top of the transmission, and comes out in one unit. The half shafts have to be removed so the exhaust headers can be come out.

If you look closely at this picture, you can see how close the header is and how it wraps around the boot of the half shaft. A common problem with these cars is the heat from the exhaust header cooks and cracks the rubber boot on the CV joint, burning up the grease. The ones on this car look good, but a CV joint rebuild is another one of those hidden expenses that can add to an already time consuming job.

Here are most of the things I had to do to get the engine out:
drain coolant.
drain oil.
remove air cleaners
remove oil filters
disconnect upper coolant hose by thermostat
disconnect hose to water pump.
disconnect breather hoses
disconnect heater hoses if necessary
disconnect large oil line fittings from dry sump tank and engine scavenge
disconnect starter cable
disconnect throttle cable
disconnect fuel distributors and fuel lines
disconnect A/C lines
disconnect ignition multi pin plug
disconnect various electrical connections including alternators
disconnect half shafts
disconnect shifter linkage after setting in 2nd gear
remove exhaust headers
remove mufflers and engine sheet metal
remove motor mount bolts
Remove clutch cover and clutch slave cylinder.
I'm sure I missed a couple of things on this list, but I think you got the idea how involved this job is just to get the engine out of the car! To compound this service, access to some of these areas is very tight and the use of bad language rarely helps. After a couple of days of work, the engine is ready to come out!
Set the Date! Tomyang.net Fall Party
October 25th, 2014 1pm-5ish
Westbrook, CT.
Vintage Ferrari gathering in New England. Come join Tomyang.netters for an afternoon of fun, food, and Ferrari talk!
Please contact me to RSVP and for directions to the party!
Reminder: If you have a Ferrari related project, car, or idea you'd like to explore, I'd love to talk to you. I can also help if you're thinking of buying or selling. This website represents what I love to do, and now it's how I make a living, so if you'd like to do something together, let me know. It all begins with an e-mail!
Previous Restoration Day
Next Restoration Day
Home page