275GTB and GTS
9/4/14
275GTB/4 and GTS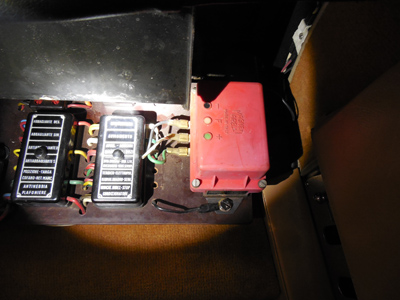 A couple of weeks ago I had a 275GTB/4 that came in for a fluid change, and we started to see a charging issue. Something was causing the alternator to over charge, so the best way to checking things out was to bench test the voltage regulator and alternator with my electrical guy. Since the car was back at Collector Car Garage, I decided it might be easier to go over and pull the parts off the car, and leave the car there instead of bringing the car back to our shop. As easy as pulling an alternator and voltage regulator can be, there was still risk that it wasn't going to be easy when working with a Ferrari!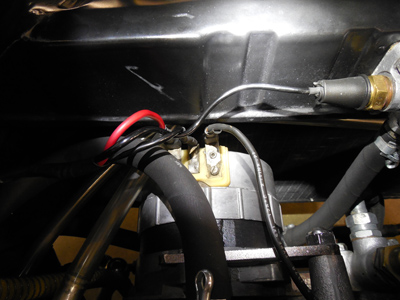 The voltage regulator came out without a problem, so I started with the alternator removal. With everything unbolted, I couldn't find a way to get the unit our from the engine compartment. On two cam cars, I managed to get an alternator out from the wheel well with the steering cranked to one side, but access was different with this 4 cam car. The clearance from the top of the car car was tight with the radiator and the various hoses and brackets. At the very least, I was going to have to partially drain the coolant to move a coolant hose or two.

Unfortunately, because I wasn't at my shop, there wasn't a flat container at the warehouse to drain the coolant. After a trip to the auto parts store for new drain pan, was managed to drain off some of the coolant, move a pipe, and get the alternator out.

I lost about 30 minutes getting a drain pan, but at least we didn't have to move a car to our shop and have it sit disabled and taking up space while we waited for a possible rebuild of the charging system.

A car that has not gotten a lot of time on this website is a 275GTS that we're restoring, but here it is at the paint shop! The painters have sprayed a guide coat of primer on the car to inspect the bodywork. Small imperfections will be repaired during the paint preparation and block sanding, but any major metal work will have to done before they begin block sanding.

Items like door gaps and panel fit are easier to see with an even layer of primer applied.

It's crucial at this point to make sure bumpers, trim, and gaps fit perfectly because once the paint is applied, it's very hard to correct problems.

The left door did not pass the inspection, and was sent to our panel guys to rework the leading edge of the door. There was a lot of lead work in this area, and may have come from the factory with it, but we'd like to get the Panel Shop to rework this edge a little better for a nicer fit to the body.
Set the Date! Tomyang.net Fall Party
October 25th, 2014 1pm-5ish
Westbrook, CT.
Vintage Ferrari gathering in New England. Come join Tomyang.netters for an afternoon of fun, food, and Ferrari talk!
Please contact me to RSVP and for directions to the party!
Reminder: If you have a Ferrari related project, car, or idea you'd like to explore, I'd love to talk to you. I can also help if you're thinking of buying or selling. This website represents what I love to do, and now it's how I make a living, so if you'd like to do something together, let me know. It all begins with an e-mail!
Previous Restoration Day
Next Restoration Day
Home page