Boxer Project and a New Project
10/24/14
Engine Installation The Boxer engine was installed last week, so we're making good progress towards gettingthis car back on the road. We had a couple snags along the way, so I'm happy to be moving forward.
The big hold up was the clutch. The original Borg and Beck was a dual clutch set up which is no longer available to the best of my knowledge. We considered having the original clutch discs refaced, but didn't have the specs for the thickness of the friction discs. We eventually went with an after market AP unit that was a direct bolt in piece.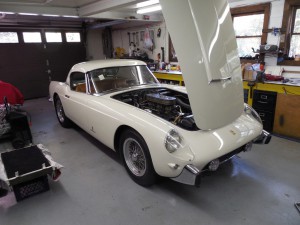 We had a new car come into the shop a week or so ago and it's been patiently waiting for us to make room in our schedule to get started on her. Between the Boxer and the 275GTB/4 detailing I've been tending to, I've beentrying to contain my excitement in getting to this 1959 Series I Pininfarina Cabriolet.
It's a low mileage car with an interesting hard top. From all the evidence, I don't thing this was original to the car, but to fits amazingly well.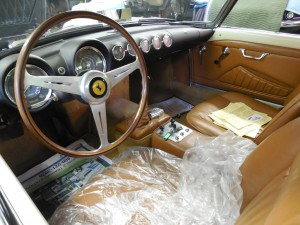 I believe the carpets were changed in this car, but the seats may be original. With such low mileage it will take some more investigation before we are sure.
The engine may also be original, but has been sealed up with a lot of red RTV. The compression numbers are pretty good considering the age, and she doesn't smoke that badly if she's never been apart. There are a few cosmetic and mechanical issues that we'll restore or repair, but the main goal is to preserve the general patina of the car.
The carburetors on this car should be painted black and there is still signs of the old paint that wasn't removed by a previous mechanic.
Someone also replaced the original 7mm diameter ignition wires with thicker 8mm wires. Unfortunately, they hogged and hacked out the aluminum spark plug tubes to fit the thicker wires. We're going to try to make this right and fix the previous damage. I'm looking forward to making things right on this car, while preserving the age and look of this old girl!