2014 Pledge Drive
It's time for the annual Pledge Drive for 2014. This pledge drive only happens once a year for the month of December, and I ask you to consider how you benefit from this website and how it helps inform and entertain you throughout the year.
Here are some of the happenings this past year: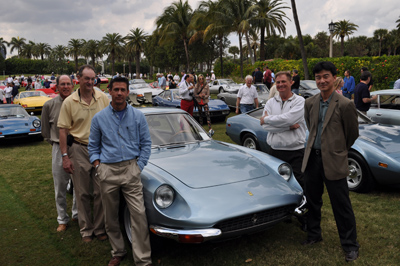 January always has a trip to Cavallino in Palm Beach Florida. We showed Mark's 365GT 2+2, and he won his second Platinum Award with this car. It was a long hard won victory to finally get the Top Award in this class at this prestigious event, and I was proud to play a part in it.
Another 365GT 2+2 arrived at the shop the next month, and it was in a little rougher shape than Mark's 365, but I was looking forward to the challenge of getting her back up to her former glory. The wouldn't start, there was a fuel leak from the tank, the electrics were all in disarray, and that was just what we initially found.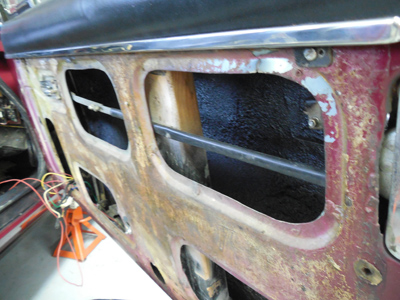 Then there were some surprises like the 2X4 holding up the right window instead of a regulator!
We also delivered a 400GT to a new owner after we had some work done with the interior.
Engine rebuilds continued in the shop as we tried to keep with with demands and the work from all the vendors.
In between the work, I flew to Basel Switzerland to inspect a GTE that was for sale. We came home empty handed, but I think the inspection saved my client a lot of money in a project that may need to wait for someone else more ambitious.
May was the time for my annual Radcliffe/Tomyang.net Spring party in Maryland. We celebrated the 50th anniversary of the 330GT with my co-host Richard Garre (left) and David Wheeler (right).
I joined my race  buddies with Team Punisher for a Chump Car Race  at Watkins Glen. It's low budget racing at its finest!
Work continued at the shop with replacing rusty brake pistons.
We also had a 365GTC/4 that was finishing up for delivery.
A trip to Los Angeles took advantage with a party at Tom Wilson's house to invite some Vintage Ferrari enthusiasts together for some food and drinks. The highlight was to meet Ed Niles, an long time Vintage Ferrari collector and historian.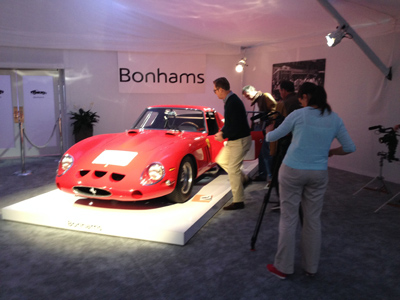 August found the car world all abuzz with the auction of a 250GTO. The final auction result was $38 million, and new world record!
Mark and I set our own little World Record on the other side of the Bonhams tent with his double Platinum winning 365GT 2+2 when it crossed the auction block at nearly $325K!
Back at the shop, I had to tend to a 512BBi major service. This big lump was pulled out of the car to change the belts, bearings, seals, and a whole host of might-as-wells while the engine was out of the car.
The end of September brought a 275GTB/4 into the shop to detail for Cavallino. January seemed far away as the last days of summer were still here, but I knew better. I started stripping all the pieces that needed attention with the hope and determination to get it all done in time.
The Monterey Auctions also brought new cars to our shop as some of our customers won bids on cars for sale. These newly purchased cars started arriving a month or so after the sales and this SI PF Cab was a nice survivor.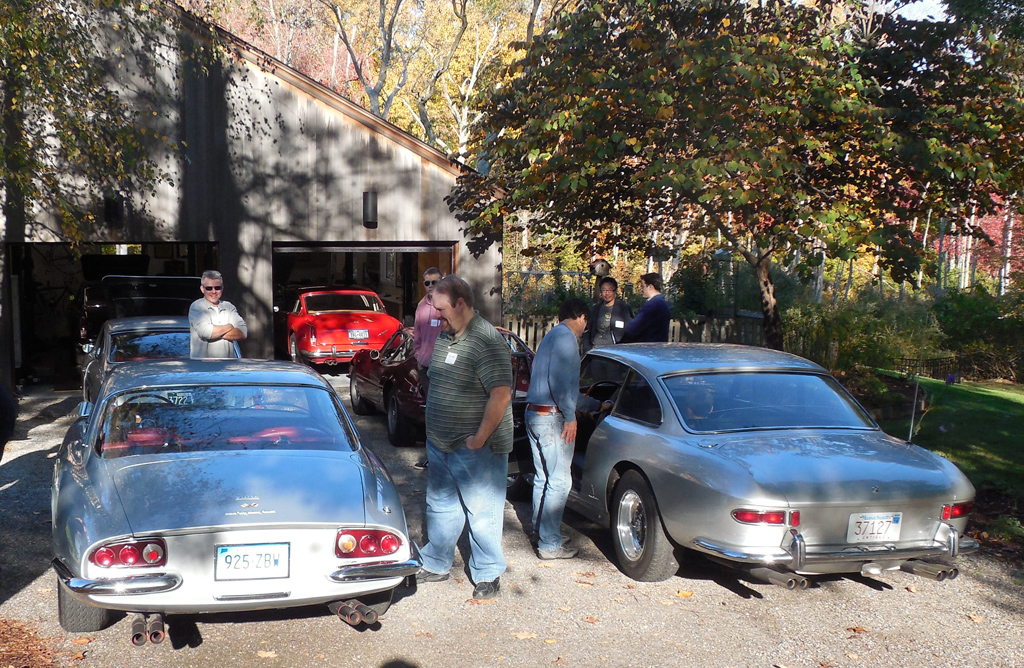 I hosted a fun Fall Party at Michael Greenspan's house in CT.
Sorted out some issues on a Europa that's also headed to Cavallino.
The biggest change this past year was the long awaited update and re-design of tomyang.net. After 15 years of running my website with a design created by my nephew it was time for something new! The Internet has changed a lot in the past 15 years, and it was time to follow these changes with a new website. Even though I was blogging before there were such things as blogs, migrating the old site onto a new format with some easier navigation was much needed. I sought out professional help to make this transition easier, and the people at http://blkdiamond.com/ were perfect in understanding my needs and goals. I believe the cost of this redesign was well worth it, and I hope you agree.
Please show me your appreciation for this website, and the community it serves and hosts. Thank you and I look forward to another year!