Cavallino Thursday
Cavallino usually kicks off on a Thursday with a Seminar covering a specific Ferrari model or car. The organizers do a great job picking spectacular cars discussing some interesting topics. This year the cars featured were three 375MMs that all shared a chassis number during various stages of their past. These were race cars that were crashed, repaired, re stamped, sold, and re bodied, so which car is more original than the next is up for discussion. Here's Chuck Betz, of the Betz/Peters Duo that restored many old Ferraris over the years describing the work on his car and how he thinks his car is worthy of its original parts that he used to build the car.
Across the courtyard was Tom Shaughnessy jacking his car up to show the stamped and re stamped chassis numbers that he used to support his claim to the serial number.
The arguments were relatively cordial, although if you know the parties involved, then you would know that public perception could add quite a payday if and when these particular cars were to sell in a hot market.
This reminds me a quote from Dire Straits song:
"Two men say they're Jesus,
One of them must be wrong!"
I choose not to judge who is right or wrong, but try to see why these guys bought their cars in the first place. I spoke to Chuck Betz later in the week about his car and he told me he and his business partner Peters bought their chassis in 1968 along with some body pieces for $1100 dollars. I didn't have the nerve to bring this up during the seminar, but I wish the "take away" from the Seminar was $1100 bucks was a lot of money back in 1968 for a couple of school teachers to spend on a chassis to an old race car. They spent the next 4-1/2 decades collecting the parts and building the car. Betz's passion for the cars even infected his son Brooke to devote his career to Ferrari restorations like his father. Shaughnessy had a similar arc to his story, horse trading cars until he ended up with his 375. Unfortunately with these cars valued well into 7 figures, we loose sight of dedication these guys had to before many people cared. They're not financial geniuses, but just a bunch of car guys that chased what they loved.
After the Seminar, attendees to Cavallino readied their cars for the Tour. Ferraris entered in the Concours could drive on a tour of Palm Beach along the Atlantic ocean. I saw my friend Greg Brendel getting his SII Pininfarina Cabriolet ready for the drive. He just bought this car less than a year ago where it spent most of its life in Morocco. The car is a mix between a "survivor car" and one ready for restoration, and Greg is trying to determine which direction to go with his new toy. James Patterson at Norwood Performance back in Dallas sorted out the mechanicals on this car well enough to get the car to Cavallino, but Greg confided in me he had not had a chance to drive the car very much. He then asked me if I would like to join him as a passenger on the tour! I wasn't sure if it was an offer for a ride, or request for a mechanic, but I accepted.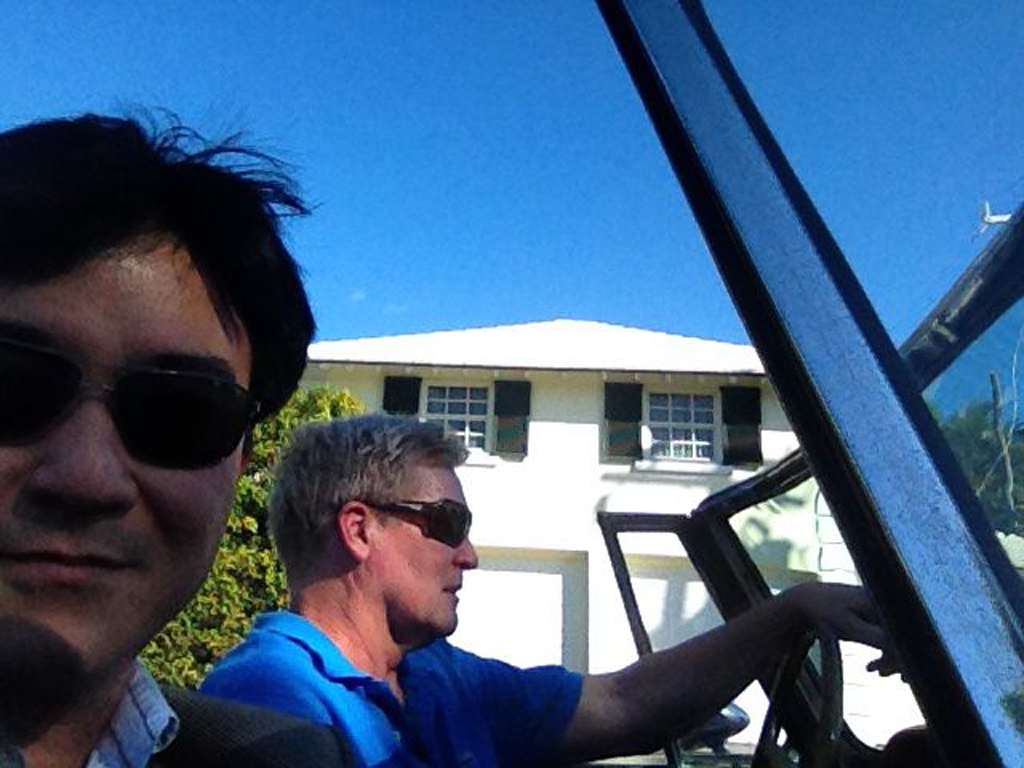 As we threaded our way through Palm Beach traffic Greg exclaimed the last four miles was the most he had driven this car! The miles continued to fall away without a problem, so we sat back and really enjoyed the South Florida weather in a Convertible made specifically for this kind of driving.
I couldn't think of a more perfect setting for Vintage Ferrari convertible!