Shaughnessy's Treasure Trove
I went out to Southern California to visit Ron Karp, a friend of mine that owns a brake relseeving business RKarp Sleeving. Ron has become a good friend, and I couldn't have found a better partner to bring along to visit Tom Shaughnessy in Oceanside California.
Tom Shaughnessy is legendary in the Vintage Ferrari world for owning, stripping, and selling some very significant and some not so significant Ferraris throughout the years. We have had an antagonistic relationship through the years with ups and downs, but I made a call this week to see if he would allow me to look for some parts, and he invited me to come down to pick through his shop. I thought is was only fitting to find a very nice Series III GTE that Tom purchased complete, and had already sold the engine that day I stopped by for a visit. In the past, I would have argued for hours about the merits of, or lack thereof, parting out a car like this, but the simple economics of the situation gives Tom the reason, and I have long given up trying to fight it! The car is currently for sale, sans engine, and if you want an introduction to Tom S, let me know.
My goodwill mission was to find parts for a couple of my customers, and Tom Shaughnessy had the inventory to help me out. The collection of parts was pretty impressive, and was even showing signs of organization! One thing on my list was a pair of windshield washer squirters for a SI 330GT. He had plenty of cube squirters that were found on the earlier 250 cars, but finding the less commonly sought after 330 squirter was posing a challenge. Tom's inventory filing system is in his head, and he was sure he had what I was looking for somewhere!
Another item on my list was a bumper for for a SII 330. This was something Tom S was not too confident in finding, but we took the opportunity to pull as many bumpers out of his piles to identify them. It was almost like a game to see who could spot the SWB bumper over the ones that went on a 365GT 2+2.
I pulled several bumpers, but was coming up short.
I kept getting distracted with all the boxes of Ferrari parts all over the place, all the while remembering dozens of e-mails from owners all over the world looking for some of the parts I spotted right in front of me, sometimes with several to choose from!
He also had stacks of tool rolls that would complete a concours restoration of a Vintage Ferrari. I know people would kill just to have one of these original tool rolls, and Tom had several!
He also was assembling complete tool rolls for those collectors that needed to finish up a complete restoration.
On the other side of the office was his "E bay Pile." I'm sure in every one of these pictures, there's one of you out there saying to themselves, "Hey, I need one of those!"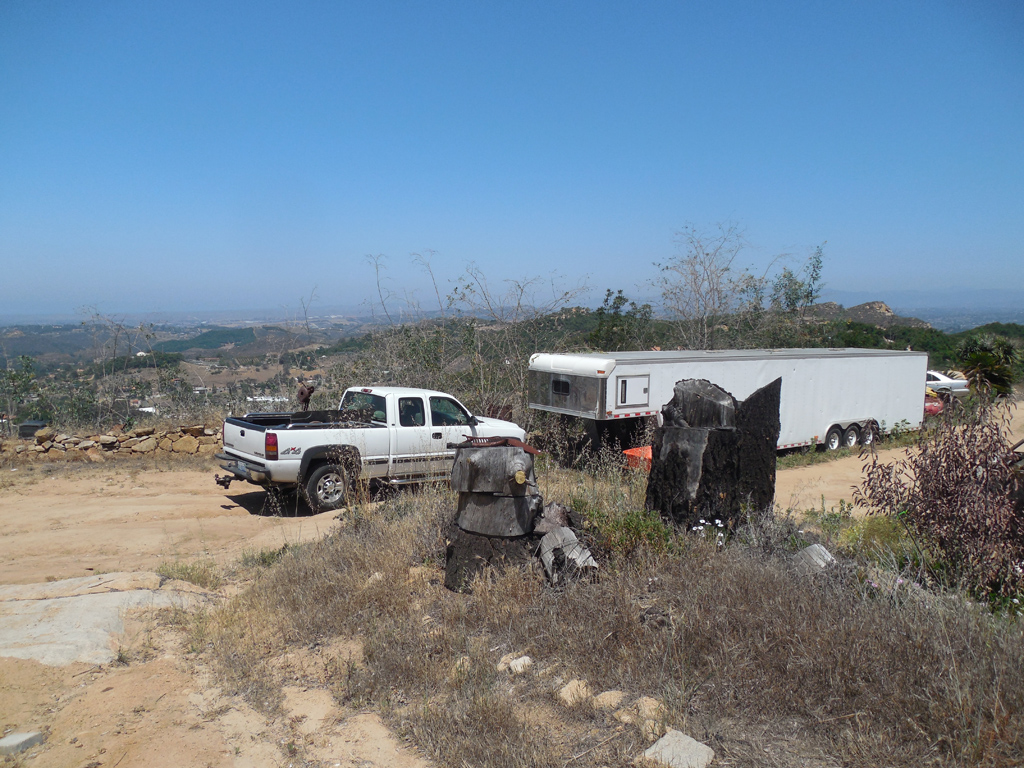 The hunt for the bumper continued to another property overlooking the ocean on an old avocado farm Tom bought years ago. We climbed into trailers hauling out bumper after bumper looking for the one I needed, but no luck.
From trailers to shipping containers, there were parts everywhere.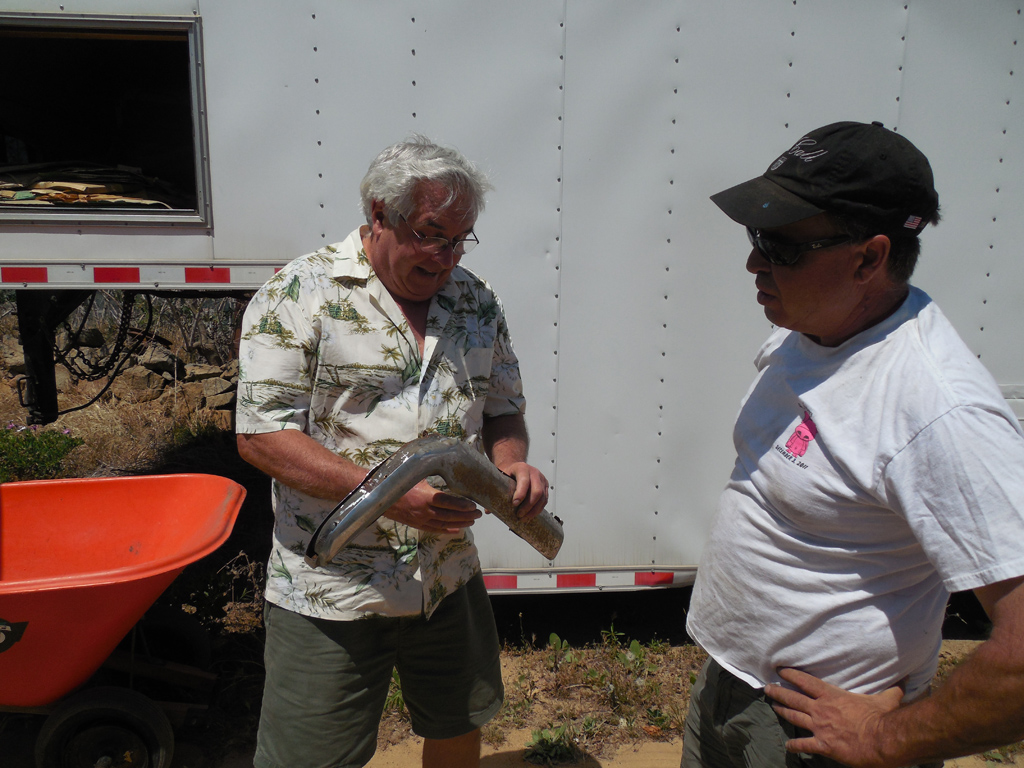 Ron Karp was offering a lot of entertainment value by exclaiming sticker shock on everything we touched. It was good to have someone that could try to bring us back to reality with what things ought to cost, over what vintage Ferrari parts prices have become. Ron couldn't believe Tom felt the Dino 206 bumper that Ron was holding was probably worth several hundred dollars. In Ron's world, this rusty old bumper was barely worth $20 bucks! I hoped Ron's disgust would soften Tom's eventual pricing on my parts!
Although I didn't go home empty handed, I never found the SII 330 bumper I wanted to buy. I would have pulled one off a rusty hulk like the one on this car, but it's rear bumper was in worse shape than the one I already had!
Ron and I had a good time poking around Shaughnessy's parts stash, and hopefully we'll be invited back. I paid Tom for the few parts I needed, and drove back to Ron's shop in Upland, CA listening him chide me for overpaying for my parts all the way back!
Thanks Tom.
Monterey Car Shows
I'm all registered and ready to attend Concorso on Saturday 15th of August and the  FCA event on Monday August 17th. Please contact Concorso, or the FCA to register for their respective events.
We're planning a tailgate party after the show at Concorso to avoid the traffic leaving the show. There's nothing worse that sitting in bumper to bumper traffic watching the car overheat trying to leave Concorso at the end of the day, so since all the GTEs and 330 Americas will already be parked together, we can stay a little later and leave when the traffic dies down. As always, everyone is invited!
If you want more information, contact
David Wheeler: David@Ferrari250GTE.com
Tom Wilson: tom@ferrari250gte.com
At last count, there will be 13 GTEs and 3 330 Americas! If you have one of these cars, don't miss the opportunity to join us!
Here's a rough schedule of events:
Thursday August 13th, Tomyang.net Cocktail Party at Quail Lodge 6-9 (I will confirm exact time as I book the venue)
Saturday August 15th, Concorso Italiano Gathering of the GTEs (and 330 Americas)
Monday August 17th, Ferrari Club National Show and Concours.