Learning about Brakes
I went out to California for a couple of days mainly to visit Ron Karp and learn about brakes. It was part social visit, part brake school, but it was something I really was looking forward to doing. Ron has forgotten more about brakes than I know, so any time I have a chance to learn something, I do it. I've been having some problems with brake systems on the Ferraris I've been working on, so I carried some problem parts out on the plane with me so Ron could take a look.
Although some of this could have be done on the phone, there is no substitute for hands on experience and on the job training, so we took a close look at a couple of master cylinders at Ron's shop. It was a unit Francois had on the shelf that looked identical to one we needed rebuilding. It was a "rebuilt" unit from many years ago, but he didn't remember who built it. We tried installing it on the car and it immediately started leaking after we filled it with fluid. I decided to disassemble it at Karp's so we could see what the problem was together.
It didn't take an expert to discover what was wrong. The rebuilder substituted cup seals inside the master cylinder for the original seals, and there were two different sizes. Ron was appalled by this exchange, telling me this might have worked for a little while, but not only was it destined to start leaking. It was also potentially dangerous.
The original seals were four identical seals shaped like doughnuts. Their inner diameter was just as important as their outer diameters and were designed to seal on all all its surfaces when put under pressure. The cup seals the other rebuilder substituted were designed to work very differently than this application. Ron has always felt there were some very smart engineers that originally designed these systems, and the shape and sizes of all the pieces were all made for a reason. One casual change in a part could have drastic consequences to a brake system. We spent a lot of time during my visit looking at the innards of my master cylinders and original parts diagrams to familiarize myself with what was right and spotting what was wrong. I have a lot to learn, but I'm trying to absorb it all!
Brake school continued with the Hydrovac power brake systems. Bob Smith of Coachworks sent us some old boosters to disassemble and learn how they worked. These systems have a lot of little parts that require some special tools and techniques to disassemble and reassemble correctly. I tried my best to keep up with Ron!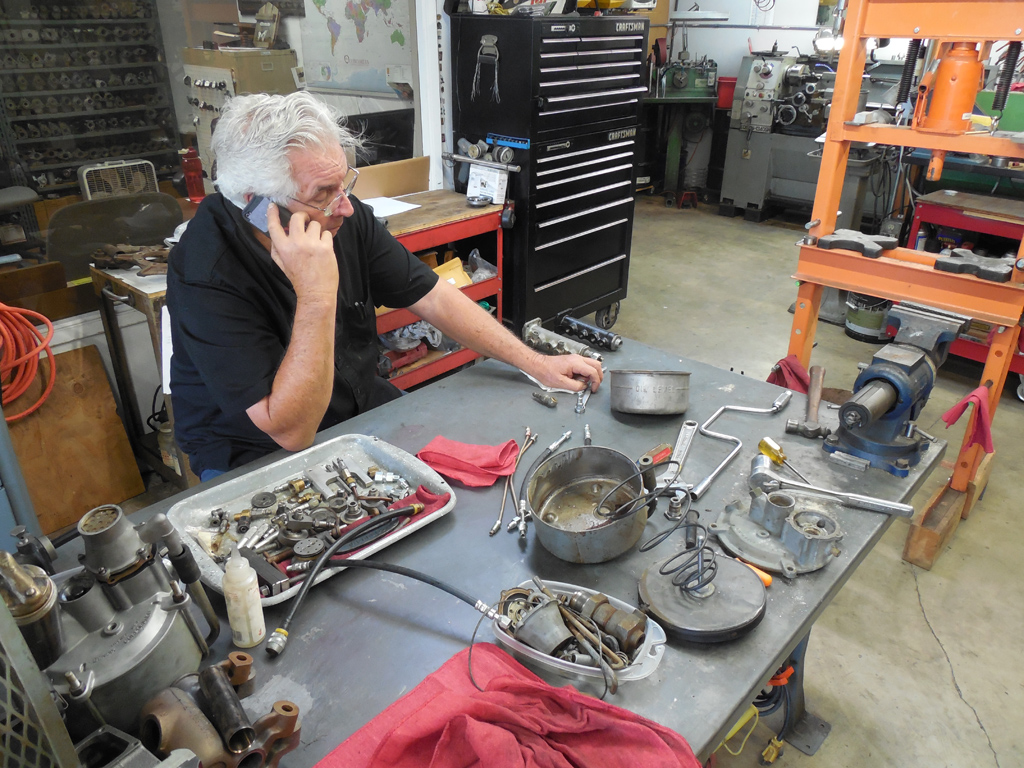 After showing me some basics, I practiced on a couple of other units to familiarize myself with how these units came apart. The more I did, the more I felt comfortable.
The big thing was learning how to test the units after they were rebuilt. Bendix made a Brake Booster Tester that allowed you to apply vacuum and brake fluid pressure to measure the proportion of brake boost in a given system. It was a messy job, but absolutely essential to rebuilding one of these units.
I actually bought a used unit on E-bay several months ago to test the Bonaldi units that go on Daytonas and SII 330s. I drove 10 hours round trip to haul this beast home! The vacuum pump side of the tester works fine, but I need to refurbish the hydraulic side of this tester so I can test the Bendix units. It sounds like a lot of trouble to repair the brakes on a few old Ferraris, but I feel it's a necessary skill set if I want to keep these cars working properly. I immediately started comparing my machine with Ron's with the notes I took when I got home!