Monterey III
Saturday's Concorso Italiano attracted 19 GTEs and 3 330 Americas, for a total of 22 cars, a new record of attendance! It was great to see all the minor differences in the cars and compare them with one another, but the biggest thrill was meeting all the owners and sharing in all the individual stories. Every one of the 22 cars had a special story about how the owner came about owning their Ferrari, and I was honored to be a part of so many.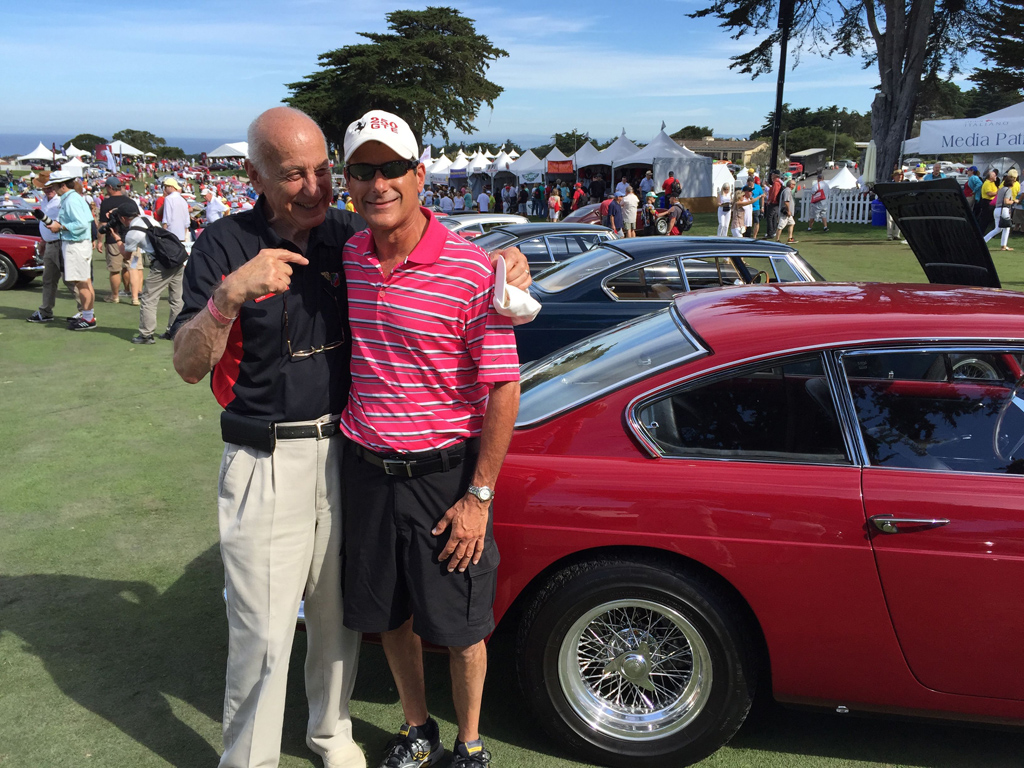 My favorite story was about Rick Granzella's purchase of his GTE when it was new in 1962. As a young successful engineer, Rick had enough money to buy a new Ferrari from the showroom in California. He took his family over to the dealership to pick out a car when parked next to a brand new Ferrari 250GTE was a Ferrari 250GTO for practically same price! Knowing all about the performance of a GTO, Rick knew which car he wanted to buy with his money, but his wife reminded him a two-seat race car was no place for family with a young son and a car seat. Eventually the wife's voice of reason won out and Rick drove home in his new Ferrari GTE.
Years later and many miles of enjoyment later, the senior Granzella decided it was time to restore his family's Ferrari. As the cost of restoration mounted and he started getting push back from his wife, he politely reminded her the restoration of a 250GTO would have cost the same, but the value of the GTO would have been over 1200 times what they paid for their GTE!
Rick introduced me to his son at Concorso last week, and the reason for buying his GTE over the GTO! I thought it was great how he was probably the only original owner of a GTE that I knew of, and I loved hearing about all the family experiences they had with their car. I also pointed out their ownership history might have been very different if they actually bought the GTO. Very few owners would have kept a GTO for so long because of the exponential rise in prices. I asked if they bought the GTO, when would they have decided it was time to sell? In the 70s, they were 10 times what they would have paid for it. By the early 80s, it was 300 times, and by the end of the decade, they were easily 500 times the original price. If you believe today's prices, a GTO would be worth nearly 3000 times its original purchase price! I know plenty of previous owners of GTOs that sold many years ago. They all speak fondly of their ownership, but all of them sold when they thought they were making some good money. What the Granzella's have is much more, which transcends profit. They have a Ferrari that has brought great joy and memories for the family, and I'm sure the GTE will never be sold because the memories are priceless!
The nice thing about going to Monterey is all the big names in the car world are usually somewhere on the peninsula, the trick is trying to meet up with them! Here's Marcell Massini (center) and Wayne Ausbrooks (right) at Concorso. I was able to stop Marcel just long enough from taking notes on all the Ferraris to pose for a picture!
Photo: D Wheeler
I was honored to drive my car up to the reviewing stand to talk about my car at Concorso. My car was not the nicest or cleanest car on the show field, but the guys felt I played a part in getting all the cars together for this event, so I obliged.
A funny side story about my car was I spent some time in the last couple months making my car a little bit more reliable so she wouldn't let me down in California. I had the radiator core replaced so it wouldn't overheat. I installed a secondary fuel pump to make sure the carburetors would not vapor lock in the heat, and I also upgraded the starter so the engine would reliably start every time. All three of these issues often arise when idling in line waiting to approach the reviewing stand of a big car show, and I can't imagine the embarrassment in front of all those people with any one of these mechanical failures. My 330 America was doing very well as I waited my turn, but as I wend over a bump, the windshield wipers started to run on their own! I knew exactly what it was, but didn't have time to fix it now!
The Lucas wiper motor has a park feature so when you turn off the wipers, it will continue to run until it brings the wipers to a lower point to park tight to the windshield. I knew the contacts to the park circuit were a little dodgy, but it was my luck for the wiper to act up as I was heading to the reviewing stand! I managed to get the wipers to stop moving, but it was too late to jump out of the car and manually push the wipers down, so all the pictures of my car would have to be with my wipers at half mast!
There was a GTE parked among the 22 in attendance that I didn't seem to know, and the owner was not around all day. I asked around and soon found out it belonged to Rick Bunkfeldt, a legendary engine builder from Wisconsin. His reputation is whispered among Ferrari GTO owners, and is known for building some of the most powerful Vintage Ferrari engines on the track, so I was hoping I would get a chance to meet him. After introductions, I was honored to learn that Bunkfeldt knew of me and my website and was happy to talk about his car.
When he popped the hood of his personal GTE, he showed us an engine with a 6 carburetor set up! Rick explained this car was his "test mule" to see how much horsepower he could get out of a stock looking 250 engine with the only outward appearance being the extra carburetors. He said he was getting 300 horsepower on his dyno at 9200 rpm using stock rods, and a standard bore! After absorbing this information, I asked a half a dozen questions that only blew me away with Rick's responses. It's well known Bunkfeldt builds 3 liter Ferrari engines that pull over 400 horsepower using trick rods and valve train materials, but building a stock engine with its original 6-1 header to 300 hp was more impressive to me. I wish there was more time to talk with this engine builder, but he had to get back to the track where most of his work was waiting. I hope one day I'll get a ride in his hot-rod GTE and maybe see his shop where it all happens, but what a treat to meet a Vintage Ferrari engine builder that was really "in the trenches" building some power in these engines!