Back to Work
After a busy month preparing cars and getting them to Monterey and back, it was time to get back to work at the shop with plenty of work to do. The 275GTS that just came back from paint needs to be reassembled and Francois has been spending a lot of time putting all the parts back on.
Although we were both out in Monterey, Francois has had more time at the shop than I, so things are progressing well.
Even though everything was marked, it always take a little deciphering of my notes and labels. I'm sure Francois struggles to make sense of my writing as much as I struggle when I read his labels when he writes them in French!
We had a Dino dropped off from one of our customers that needed a tune up. The owner's complaint was whenever the engine is shut off, it would often backfire very loudly. We took the car out for drive, and sure enough, after the car was warmed up and was shut off, a loud backfire resembling a gunshot would come out of the exhaust! No only was this an annoyance, but could give your neighbor a heart attack!
This car was recently purchased, and so it was the first time we were looking at the engine. Like most US delivered Dinos, it was originally equipped with an air injection system that helped keep emissions at a Federally regulated level back when they were new, but this system was removed a long time ago. In many States, Dinos are old enough to be emissions exempt, so most of the performance restricting emission devices were removed and probably thrown away.
This car seemed to run and start OK, but the idle would be all over the place, and would settle way too high. Even with the throttles closed completely, air was getting in somewhere like a vacuum leak.
The air injection system on this car was missing, but I found the injection ports were still open, and many of the plugs were missing! What I believe happened was this car was tuned with these air ports plugged up with rubber hoses and plugs, but through time, either the rubber hoses fell off, or the plugs would pop off. Two of 6 ports were unplugged and allowing air to get in and affect the idle. Our solution was the braze the ports shut to insure no leaks would occur in the future. If for some reason (I wouldn't know why) someone wanted to restore the air injection system, these ports could easily be drilled clear.
We also found one of the valve covers leaking, so we pulled if off and resealed it. Oil and coolant was changed and we made sure the rest of the engine was in good order.
After our test drive, I heard a small pressure leak coming from the front of the car. After pushing the heater control valve on the dash, I heard the noise change. The growing puddle under the car lead us to remove the spare tire panel in the front of the car. As we followed the trail of coolant, we found it coming from the heater valve hidden under the heater box. A new heater valve was ordered, but that was the easy part. Getting to the valve to change it was a whole other ordeal.
It's going to be a busy Fall. I still have a few cars that need to be sorted and sent back to their owners. I've got a 365GT 2+2 that needs to be tuned. Getting it to run right has been a challenge beyond our normal tune up. We hope we'll figure it out soon. A SI 330GT 2+2 had it's front seats restuffed, and the brake boosters are just about ready to reinstall. A SII 330GT is heading in for new seats and door panels. The owner and I picked the color, and the upholsterer will be starting the project shortly. The Daytona gearbox rebuild I mentioned a couple months back with the broken pinion gear was replaced, rebuilt, and put back on the road. I have a 330 engine that is just about finished with its rebuild and will be ready to install in the car this Fall, and a second one that will be fired up in the next week or so. All these projects are just what is in front of us with the 275GTS restoration! We haven't even started counting all the Fall service jobs, not to mention the work that comes in at the end of the driving season. I'm trying my best to make everyone happy, but it's going to be busy!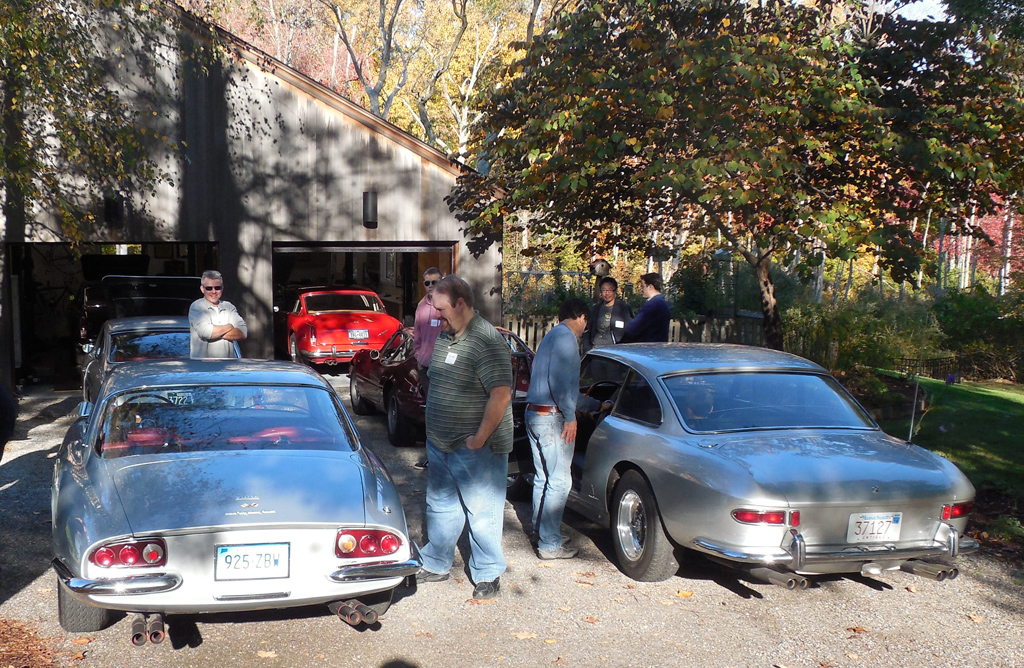 On the social end of this website, Michael Greenspan has decided to host another Fall Tomyang.net Gathering in West Brook, CT to celebrate his "Platinum Preservation Award" from this year's Ferrari Club National Meet. The date is set for October 3rd, 2015 and it's a great party with a very strong showing of Vintage Ferraris and fans of the site. Mark the date, and make plans for a fund afternoon of Vintage Ferraris, good food, and good friends!