More Brake Issues and Installing an Engine
Just when I thought I was at my wit's end with the brakes on a SI 330GT, another problem arose! The brake fitting at the end of one of the boosters started leaking during my tests. As I went to tighten down the flare fitting, the sinking feeling of the fitting stripping the threads came through my wrench. The booster body is made of aluminum and the fittings are steel, so after years of use, and weakening threads, it chose to fail on me this week. Since I now know how to disassemble these boosters, I figured even though it would be a pain in the butt to disassemble and install new Timeserts in these threads, at least a solution was at hand…WRONG. Ferrari decided to use a special fitting that used a M12X1.0 fitting to a 3/16th inch line. No one makes M12X1.0 timeserts or helicoils anymore! I called my friend Ron Karp out in California for some advice and rescue. We put our heads together and devised a plan to make a bushing that would thread into the booster, and adapt the 3/16th line to work. We needed to make these brakes work, and still look stock, so there would be some custom machining to do. Ron mailed me the parts, and I'll make the modifications on my end while the parts come in the mail from California. This car continues to kick my butt!
With the silver four headlight car brake project stalled, I decided to turn my attention to installing the engine in another four headlight car.
Speaking of problems, this engine was rebuilt after a catastrophic valve failure. The car was brought to us from another shop, and we've been trying to make things right. The physical installation of the engine didn't take long, but the usual hunt for parts from the other shop was the hold up.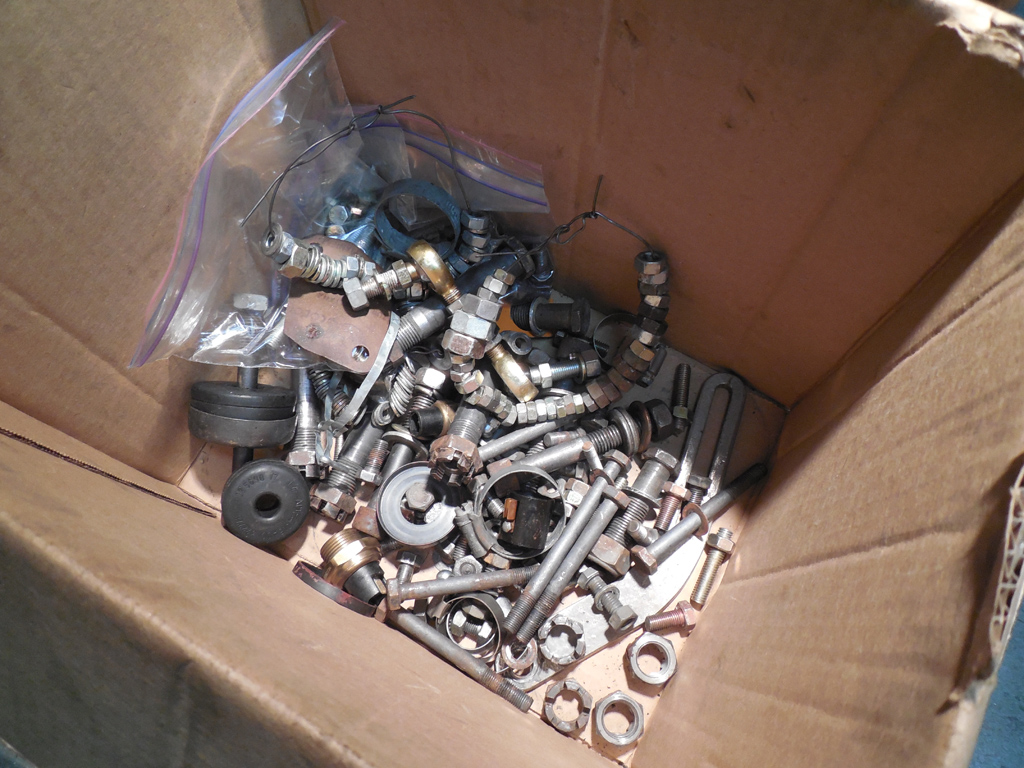 When this project came to our shop, a lot of parts were haphazardly thrown in a box, and I've been rooting through these boxes for the past several months looking for all the little pieces that go back together. Some parts were replaced with new bolts and nuts, but others were simply not found.
When the engine was installed, I soon realized we were missing specialized bushings that mount on the rear engine mounts on this car. I've never seen what these original mounts were made of, but Francois has been making these out of teflon. The original materials must have disintegrated over time.
These bushings add about 10 mm if height to the rear of the engine and I'm sure can affect the way alignment of the engine to the rear of the car. Francois showed me notes he took from an original bushing and drew a diagram on the margins of the 330 parts book for me to follow.
I spent the morning cutting down a large piece of teflon rod to make these four pieces, so Yale's car can be another step closer to completion!
Some of the brake issues I've had pushed other jobs aside because We often cannot take in another car until I resolve the problem at hand. When a problem car sits in our shop, the work backs up to everyone else that is waiting to get in. I'm lucky to have the help from my friends in the industry to fix these problems, but there is simply the logistics of getting their help, shipping the parts, and installing them on the car that makes days and weeks go by. A dead car in the shop waiting for parts doesn't make me any money, so there's added insult to injury! I was happy to see a 275GTB/4 headed home after a short stay at the shop. Francois and I manged to do a fluid change, tune up, and general maintenance inspection on this car before sending it back home. I wish we had more of these "simple" jobs, instead of the headaches we've been seeing, but I guess we have to take the bad with the good. I always say to myself, "if it was easy, everyone would be doing this!"
I wanted to thank Michael and Dorie Greenspan for hosting another wonderful party at their house last week. The weather was fantastic, and setting was perfect for a bunch of car people to get together!
The Hinikers came down from Boston to join us with their silver GTE. I often work on Gary and Suzy's car, and see them at all the events. Unlike most car families, where the husband has to beg the wife to attend the car shows, the Hinikers are always seen together at all the events because Suzy is as much as a car person as Gary. The fact that Suzy owns and drives their Ferrari Challenge Car should speak for itself!
Suzy has a new blog call The Auto Blond and it follows all the car related events they attend throughout the year from Ferrari Club events to private car collection tours. It'll be interesting to hear Suzy's perspective from her new blog. Follow with me on TheAutoblond.com