Ferrari Classique Certification
I had an opportunity this week to meet Emilliano Torkar of the Ferrari Classique Department from Maranello, Italy. The Collector Car Garage arranged for Mr. Torkar to come to NY to certify a few Ferraris, and I was invited to bring some of my client's Ferraris to be certified.
Ferrari Classique Certification is a program from the Ferrari Factory that researches the cars and certifies that they are "As Built" by the factory by examining many items on the car from original equipment, to correlating internal numbers, chassis numbers, engine numbers, and assembly numbers with records held by the factory. When a car passes the tests by  Classique Department it gets a bound book showing it has been  "certified." There are as many detractors of this service as there are supporters for a host of reasons that span back to the very beginning of Ferrari, but the basic principle is good to certify the authenticity of a car.
Having Mr. Torkar personally come to NY to inspect a few Ferraris was an opportunity I wasn't going pass up. Normally, Classique Certification involves submitting an application, attaching numerous photos, and waiting for a response from the Factory. The Ferrari Dealership network can assist in this process, but the cars have to be transported to the Dealer, scheduled for photography, inspection, and submission of the application. All of these inspections end up at Mr. Torkar's inbox waiting for his inspection and approval. Having him personally inspect my customer's cars gave me instant notification on the outcome of the inspection. We discussed any concerns Emilliano had in real time, and what he wanted to rectify to prevent any of these cars from failing certification. There is nothing better than a personal connection with this process.
There was a lot of work to be done to show some of the internal numbers Mr. Tokar needed to certify the cars. The 250PF Cabriolet and 330 America I brought have a very well hidden transmission stamping that can only be accessed by removing the transmission tunnel. Unfortunately, the seats and some of the interior has to be removed first before removal of the transmission cover.
As I worked on exposing the transmissions on the PF Cab and 330 America, Emilliano worked on a third car I brought down, a 330GTS. Luckily, the later cars have numbers that are much more accessible and required less disassembly.
Emilliano had his computer and database set up to see if the numbers matched up. I tried not to pry, but I could only imagine the wealth of data on his laptop! During breaks, he showed me rare scanned documents he's collected through the years at Ferrari. Did you know there is a Factory owner's manual for a 500 Mondial!?
There was plenty of room to work at CCG, but next time, I'll bring more tools. It's always tough to work outside your normal shop because inevitably there will be a special tool you have in your shop that you wish you had brought!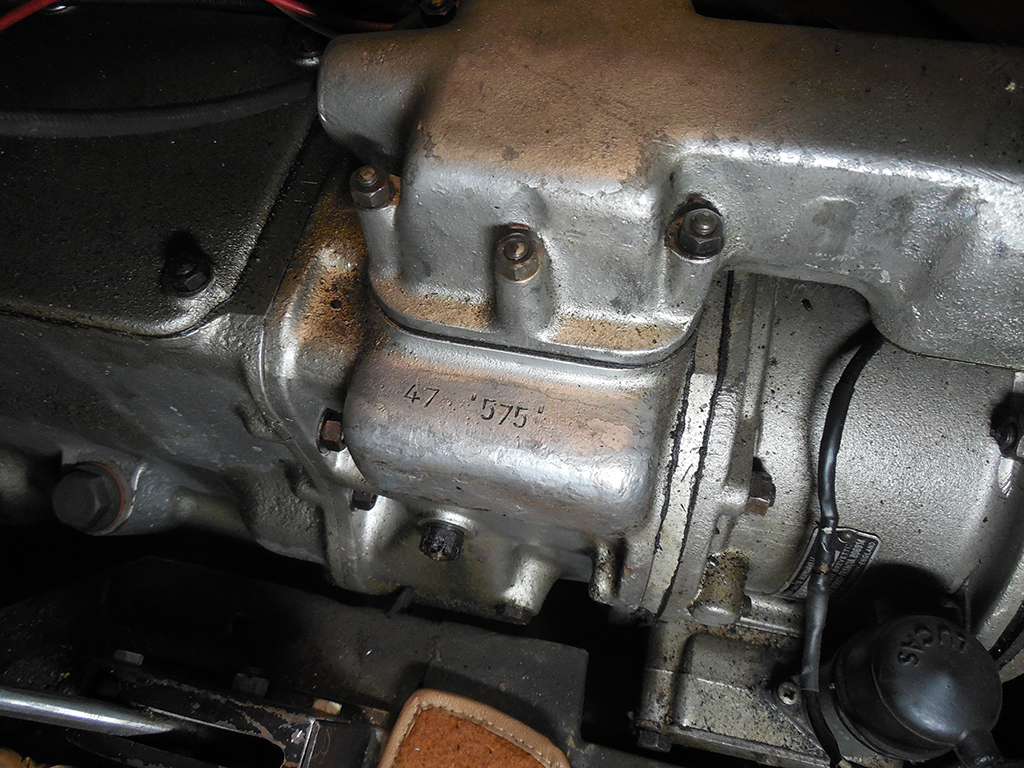 Michael's 330 America showed off her transmission internal number, and it correlated with the Factory records. It looks like the 330 America will pass, along with the 330GTS. I have a little work to do on the 250PF Coupe, but it's minor and should pass once these requests are met.
While on the topic of Classique Certification, I want to make distinction. When a car is certified by the Factory, it means it is equipped as it left the factory. It does not mean you can take a "Certified" Ferrari and expect to win a Concours! Emilliano is not inspecting the details of the car, but is making sure the general equipment as shown on the build sheets is correct and the internal numbers on the gearbox, rear differential, and engine are as they were stamped when the car was built. They have also certified cars with non matching engines, so long as the correct type of engine was installed. There are some grey areas on the certification process, and I'll leave it to others to debate, but I do know that many buyers demand a car come with Factory Certification, so having the "Red Book" can't hurt the value of a car.
Annual Tomyang.net Pledge Drive
Please show me your appreciation for this website, and the community it serves and hosts. I only ask once a year for your support that pays for the server, hosting, and work I put into maintaining this website throughout the year. Thank you and I look forward to another year!