More Exhaust and Fuel Woes
Work continues on the GTC to ready it for Concorso in a few weeks. I can feel the deadline approaching, and the usual problems arose with the scramble to find solutions!
With the new reproduction exhaust system going in, I found a couple of the original style exhaust clamps were missing on this car. These are sporadically available from some Ferrari shops, but the supply is not consistent. These clamps are very specific and the shops that I know that make them are also very busy themselves getting cars ready for Monterey, so getting a set this month can be challenging. I called Motion Products in Wisconsin because I heard they were making these clamps, but the diameters were not exactly right. When they arrived in the mail, I found too much material would have to be removed to make them work. Since these clamps have to fit the pipe perfectly to seal correctly, I had to find another way.
The other problem was none of the exhaust could be fitted until I sorted the clamps because they have to go on the pipes first before any of the exhaust could be assembled. I resorted to making a set from scratch. I had two original clamps that I donated to the project, so I only had to make two more. I'll be sure to point these out to the judges, because I often wonder it they even know to look!
With the clamps sorted, I relocated a couple of exhaust hangers to make the system fit better to the car. Mike York at Timevalve always tack welds the hangers in place for me so I can check the fit to the car before I solidly weld the hangers in place. Although his templates are pretty good, Vintage Ferraris are still hand made cars with variations, so the only way to get things to fit well is to have the flexibility to make minor changes.
The one mistake Mike did was paint the inside of the tips to the exhaust in orange. This was a detail from an ANSA system which was incorrect for the Cereto system he is reproducing. I could have run this car for a few miles, and the insides would have turned black from the engine, but I went ahead and removed the paint, and painted the insides black!
The rest of this system was very nice and followed the correct details of the Cereto system. The tips have a separate chromed tip that slides over the exhaust ends, while the incorrect ANSA tips are one piece, painted half black with the red tape.  I got Cereto stickers from Parker Hall and the exhaust is ready to go. Again, will the judges at Concorso know?!
Another detail missing on this car was the front license plate bracket. Francois had one in his stash, and I may either borrow it for this show, or try to fabricate a new one. I'll have to make one anyway to make this car complete, but it will all depend on the timing!
Besides working on the GTC for Concorso, we've been very busy at the shop sorting out fuel issues. One major problem we've been seeing is a lot of carburetor cars are not running as well as they used to. Several cars in collections that we manage seem to be running poorly, and are not as responsive as they were when they last left our shop. After checking their tune, and all the obvious possibilities, we're finding the only solution has been to re-jet the carburetors! The spark plugs on these cars show they're running lean, and without enough fuel to the carbs, they also don't have the responsiveness they once had.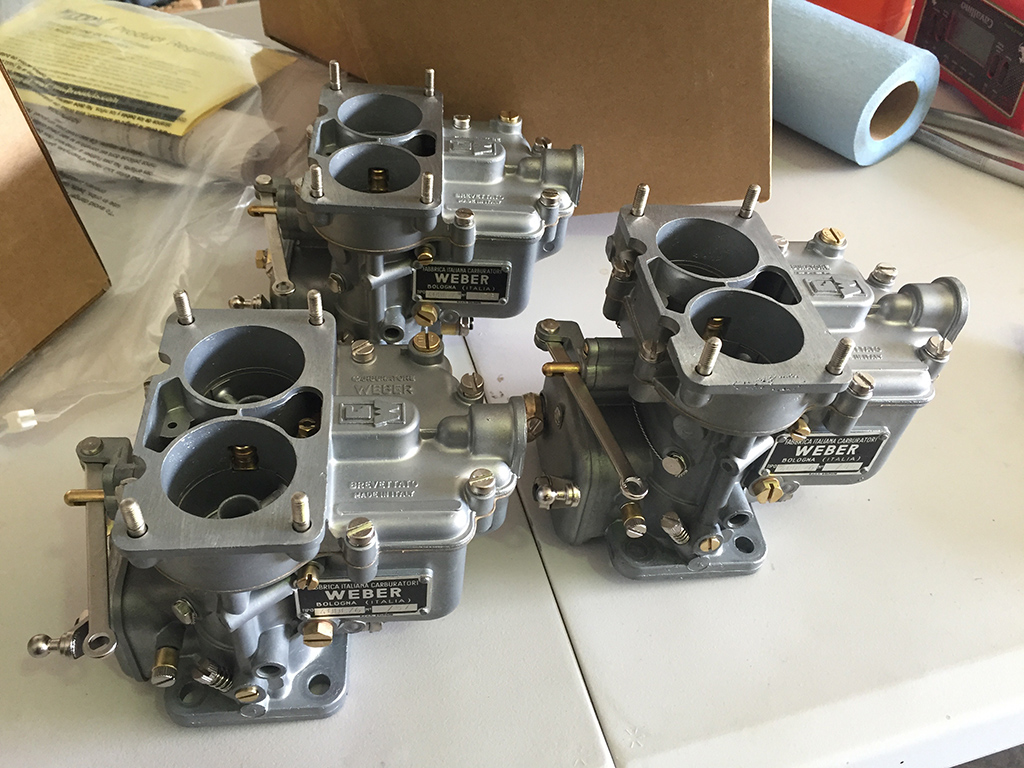 I recently had a set of carburetors rebuilt by Mike Pierce at Pierce Manifold, and although the vacuum issues are sorted, I'm finding the stock jet settings are causing the car to run lean as well. Mike and I have had many conversations in the last couple of weeks about what has changed and what we may have to do to solve these issues.
Francois has been fiddling with several cars in the last month of so, from Daytonas to Lussos, sorting out the carburetor issues one by one. It's a slow process of increasing jet sizes, testing and tuning, and checking the color of the plugs, until we're happy with the way the car feels and responds. It's the old fashioned way to get these cars to run right, but it works.
Mike has confirmed the fuel has recently changed, and what we're seeing is its affects on our old cars. Carburetors work on air pressure, venturi effect, and a whole host of other factors that don't really come into play when making fuel to run in a modern fuel injection system. Just like oil formulas have changed that can affect old cars, fuel is seeing the same change. Our challenge is to figure out what we have to do to keep these old cars running the way they should.
As if there wasn't enough to worry about with the affects of fuel formulations changing we recently found a serious problem with one of our customer's Vintage Ferrari. He called to tell us there was a leak coming from his electric fuel pump so we took a closer look. The pump diaphragm was deteriorated and leaking past the seal. With the way the FISPA plunger pump works and this bad seal, fuel was being pulled up inside the pump towards the electrical portion of the pump!
This owner was very lucky that a spark was not introduced to all this fuel getting past the diaphragm! The seal on this pump looked like the same seal we've been using on rebuilding these pumps for years, so what was in the fuel system that ate through the rubber? Owners these days are filling their tanks to their Ferraris with a cocktail of fuels from race fuel to aviation fuel, but we have no idea if these fuels or additives are safe for the rest of the fuel system. Great, another thing to make me lose sleep at night!
Monterey 2016!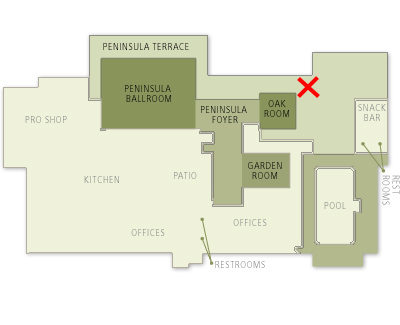 It's time to start thinking about Monterey! I will be having my Annual Cocktail Party at the back of Quail Lodge on Thursday August 18th 5:30 pm- 8pm. It's a great chance to meet up with tomyang.netters and make plans for the rest of the week.
I'll be at Concorso this year showing an gold 330GTC in preservation class, so if miss me at my party, please stop by and say hi at Concorso. I'll be in town for about 5 days, so if you want to meet up, email me and we'll try to connect. See you all there!