Friday at Monterey
A lot of shows were happening in Monterery on Friday of car week. Quail Lodge hosts the "Quail Motorsports Gathering" and there were two German auto shows "Legends of the Autobahn," and the "Werks Reunion" just down the road from Quail Lodge. Just as you though traffic couldn't get any worse, it was worse than I could believe. With two shows on Carmel Valley Road, and hundreds of Porsche 911s trying to attend and park at the Werks reunion, by 9am, everything was bumper to bumper all the way up highway One.
I was staying at Quail Lodge at my friend Mike's house, but getting out of there was not easy either. All the traffic coming into Quail lodge was affecting the gridlock on Carmel Valley Road and was being controlled by one Police Officer stationed at the entrance to the golf course. He was not a happy man, and while I waited 20 minutes at his corner to get out of the property, I was afraid I was going to witness him having a heart attack!
Although I attended a couple of shows on Friday, I had one very important thing do and that was to move the 330GTC from the house at Quail Lodge to Concorso on the other side of the Monterey Bay. I already moved the Ferrari once off the truck in Pebble Beach to the house for safe keeping, but now I had to get it through all the traffic to place her on the lawn at Blackhorse Golf Course. My friend Yale and I hatched a plan to drive the car over Laureles Grade Road to avoid the traffic on Highway one and he would lead the way with the rental car. Since Yale rode over from Pebble Beach to Carmel, I wanted to share the experience with his friend Carston, who never rode in a 330GTC before.
Carston is from Germany, and it was his first time in Monterey, so I couldn't think of a better immersion into all that was Monterey than a blast up Laureles Grade Road in a Vintage Ferrari, especially in this car. With 25K miles on the odometer, this car ran and drove like a new car. The gear box was silky smooth and the steering box was very precise. With the new suspension bushings I installed, and major tune up, this car was an absolute joy to drive!
Carston is a Porsche GT3 owner, and knows his way around track, but I could feel his feelings shifting as he listened to the howl of the V-12 on the switchbacks. I was enjoying myself as well, after spending so much time and energy on this car and now getting a chance to drive in Monterey!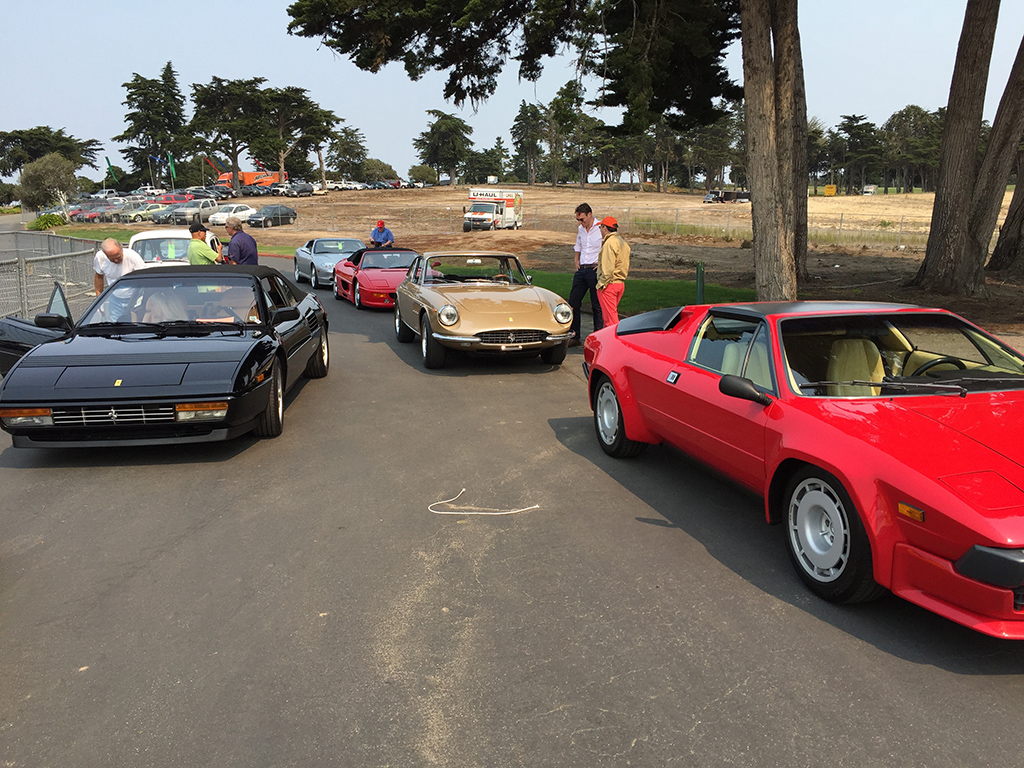 The more I drove this car, and soaked up the experience of driving a V-12 Ferrari, I started to really understand what is so fun about owning collector cars. As grownups , we are faced with many responsibilities and pressures of life, but driving a fun car is one of those activities that still makes me giggle like a little kid. Carston and I laughed a lot on that drive!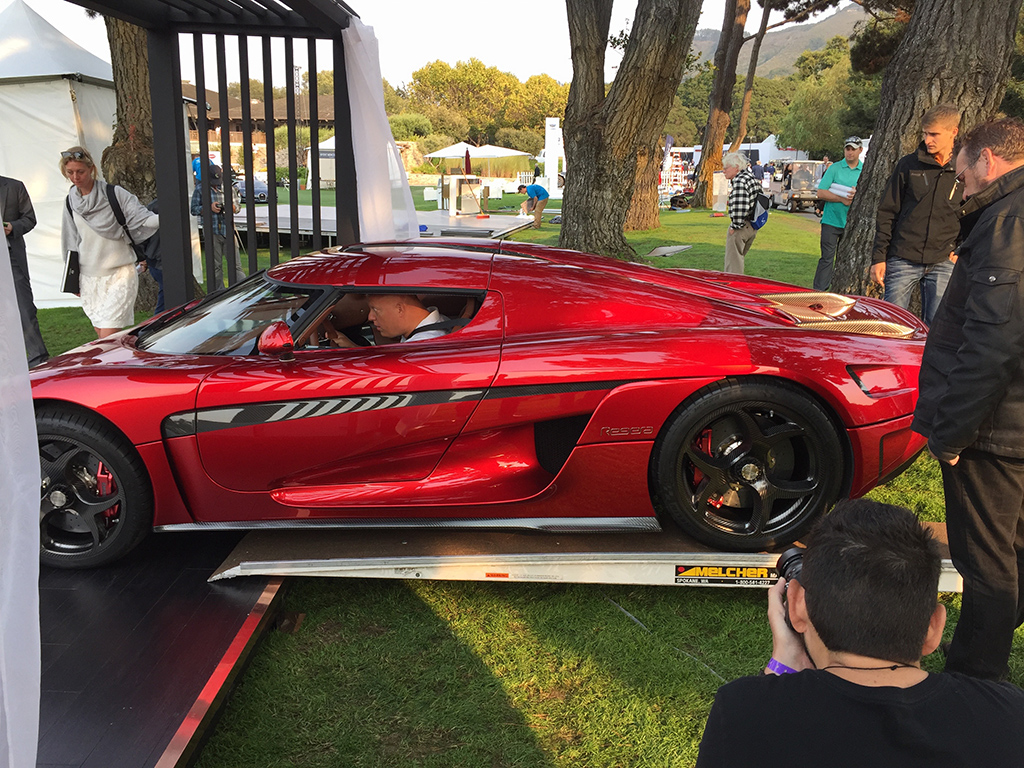 After delivering the car to Concorso, we rushed back to Quail to see the last of the cars being loaded out of the show. Only at Quail would you see Christian von Koenigsegg loading out the car with his namesake. I guess if there was a problem, the owner of the company would want to be to blame!
After Quail, I was invited to join some of my New York Friends at an Alfa Romeo Sponsored Cocktail Party.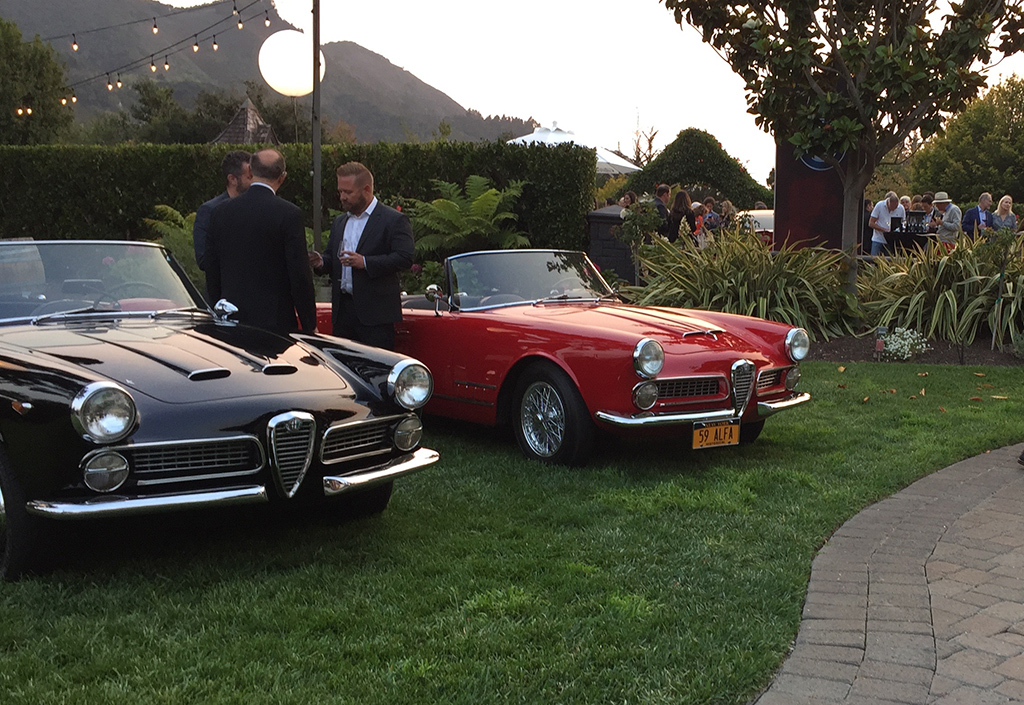 Gary shared the truck from New York with my GTC and was planning only to show it at Concorso, but the executives at Alfa Romeo saw Gary driving his 2600 Spyder and asked if he would like to display his car at their cocktail reception. It was an offer he couldn't refuse, and we all got into the reception on the tail of Gary's Alfa!
Jay Leno was the M/C of the event, and was nice enough to pose for a picture. I mentioned I worked for Letterman in a former life, and hoped he wasn't going to hold it against me!