Concorso 2016
I arrived early for Concorso to prep the GTC for the big show and found the car covered in a layer of ash! Northern California was battling a few forest fires and they were close enough to smell the smoke. Luckily, I had packed enough detail towels and spray to wipe down the car clean again.
There was a lot of interest in the 330GTC, and I spent most of the day showing judges, fans, and anyone who would listen to me tell them about the low mileage, original paint, original chrome, and original details to this special car.
I found a few minutes throughout the day to take a look at some of the other cars in attendance. I was disappointed to see only a few older Ferraris at the show. This Lusso along with two GTEs were the oldest cars there, a mere shadow of Vintage Ferrari attendance from years past.
Back at the gold GTC, I met a former owner of the car back when it was living in Dallas. Although he only put 4000 miles on the total of 25K miles on the odometer, he fondly remembered every one!
I've been spending  a lot of time on this website and at Concorso talking about the original paint on this car, but I had a chance to prove my words when a friend asked if he could check the paint on this car with his non-destructive paint thickness meter. I welcomed the test because I also wanted to check an area that I always felt was probably repaired, but never checked  conclusively. We found numbers as low as 3 mils to highs of 6 mils overall. These numbers were very respectable for a single layer of original paint. I also felt vindicated to find one small section on a fender that showed a little more paint than the rest of the car. The blend was very good, and was probably done many years ago.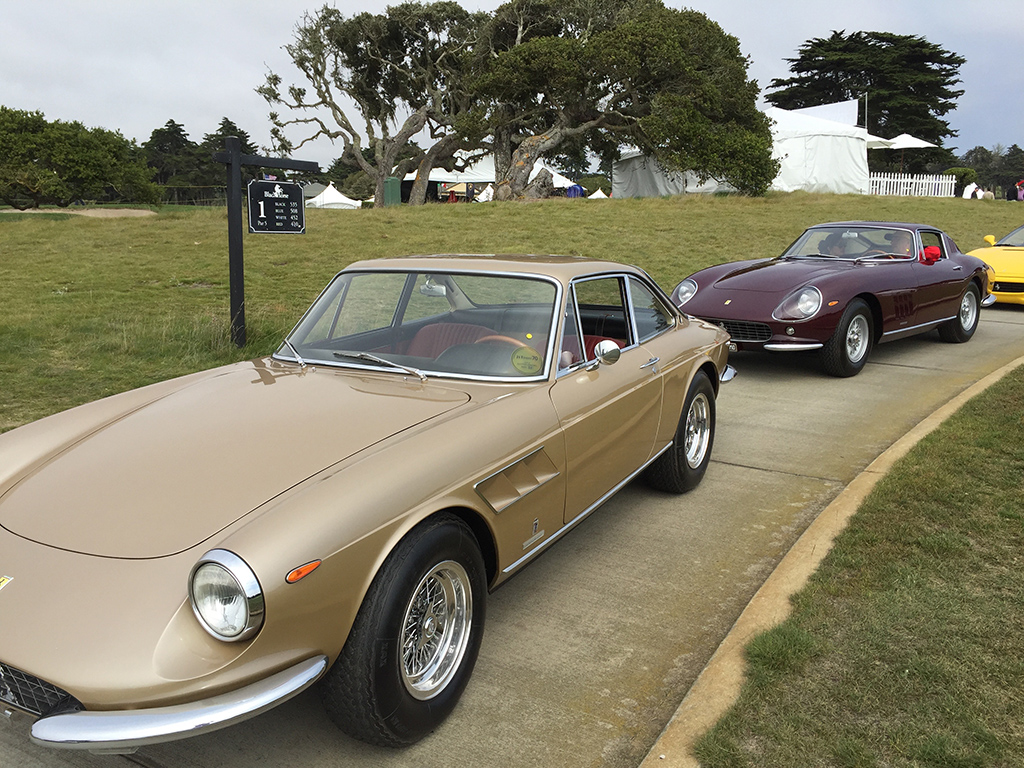 Cars in our class were asked to get in line to receive an award, but they wouldn't tell us what we won until we approached the podium. I spent 20 minutes on line in painful anticipation, but at least I knew we weren't going home empty handed!
I was very happy when we were asked to drive through twice! The first time was to receive an overall Platinum award, meaning the car scored 97 points or higher of 100 points according to Ferrari Club National level scoring, and the second time was for overall Preservation Class Award! I was very pleased, and despite a long and exhausting day, I felt it was worth every minute of hard work!
With the awards packed, my day was done, so I pulled the GTC onto the transporter for her trip home. I was very proud to have brought this car out to California to win both awards we were hoping to get. Now I could get some sleep and relax!