Consulting
I was asked to fly down to Miami to look at a couple of cars for a client of mine. He wanted to get my opinion on what he should do to make all his cars a little better and as close to stock as reasonably possible. The first car I looked at was this European Specification Testarossa.
Testarossas are a little beyond my expertise, but the complaint on this car was more about the interior than the mechanical aspects of the car, and I could easily see the problems. Ferraris from the 80s had very firm seats and were upholstered with a firm foam under the leather. The seats in this car were re-done by someone who knew very little about Ferrari seats, and I think the only solution to making it right was to start all over.
There was some very amateurish work in this car, and really not up to the standard of custom upholstery. I wouldn't blame the current owner for wanting to make this right.
Even the stitching was done poorly, and crooked. I tell everyone there are a lot of upholstery shops in the world that can do very high quality work, but without proof or a reference, it's too risky to entrust your Ferrari to someone who simply says they can do this kind of work well. The risk you take is having an embarrassing interior that can only be fixed by have everything ripped out and done again at an additional expense. When picking a shop, don't trust what they tell you, because EVERY shop will tell you they do great work, and NONE will tell you "We do poor to fair work!"
There were also some missing pieces under the dash that we'll have to find or make new.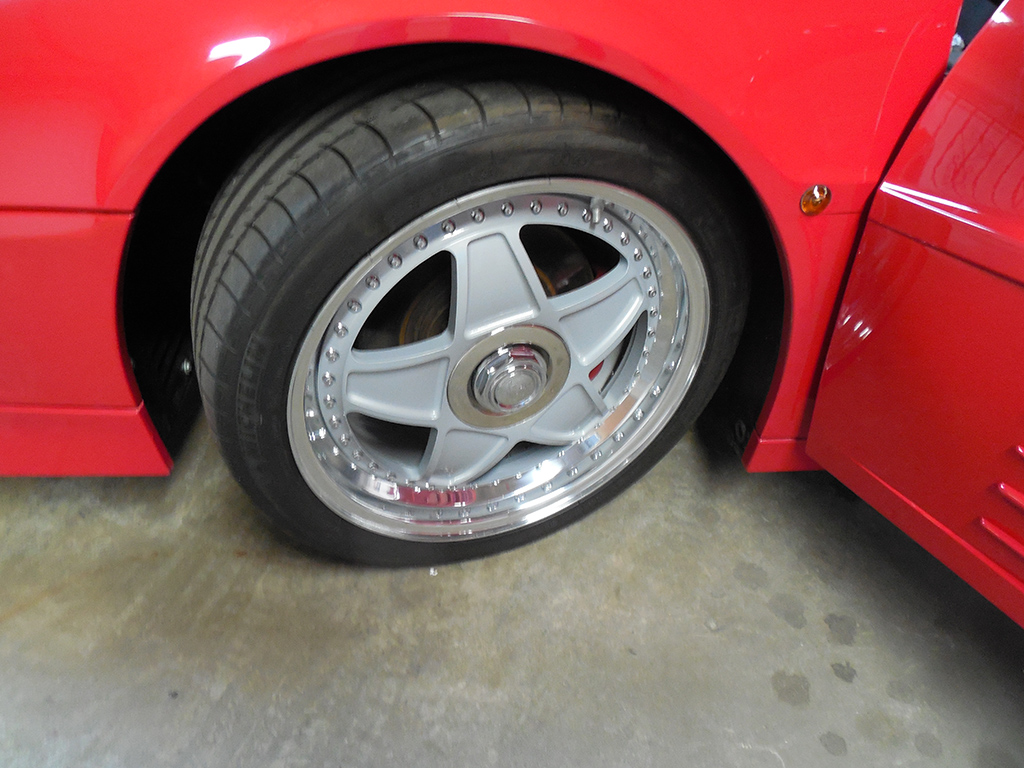 Speaking of parts, I don't think these wheels were stock on a Testarossa, so I'll also be looking for a set of centerlock Testarossa wheels. Anybody have any leads?
What I really went down to Miami to see was this Ferrari SI 330GT 2+2. The owner has owned this car for a few years but now wants to make it a little better. I know a lot about these cars and started a list of things that I could see needed improving.
In general, it was a nice car. According to Kerry Chesbro's website, it was restored several years ago in a shop in Wisconsin, and most of the work was very nicely, but some of the little details were slightly off. The original wood dash on these 330s was finished in a dull wood finish, with very little shine to the surface. To some people it would almost seem it was an oiled surface because the varnish was so thinly applied. This was not the case with this dash, because it was very shiny, and the varnish was applied very thickly. It looked very nice, but looked more at home in a high end British car than a Vintage Ferrari.
The engine compartment was 95% there, but again, was detailed without accurate knowledge about 330GTs. I made a list, but kept reiterating that my list was not saying this car was bad, but what would make this car perfect. I wasn't even advocating making it perfect, but only answering the questions about how to make the car perfect.
An example of issues in this picture was as follows:
Underside of the hood should be painted semigloss black
missing hood prop rod
hood pad should be a mylar silver, but early cars may have been black vinyl, but we would have to correlate serial numbers
fuel rail is incorrect for SI 330s. This car looks like it has an SII fuel rail.
As I made my list I felt it wasn't that bad, and much of the work could be done locally. I would have been happy to have taken this car up north to get right, but felt the expense of shipping the car back and forth was not worth the amount of work. I called my friend Tim Stanford in Fort Lauderdale to see if he was busy. Tim generously gave his time to look at the car, and we went over my hit list on this 330. Although Tim is as busy as ever, he agreed to work on this old girl. I secretly believe, he actually prefers to work on the older Ferraris than the more modern stuff that shows up at his shop, so I knew what kind of work he would take! Thanks Tim!