365GT 2+2 Shocks and Hood Pad
A 365GT 2+2 came into the shop for its annual check up and to fix a couple of issues.
The biggest issue was a smashed exhaust pipe from the last drive the owner took this Fall.
This car was fitted with adjustable air shocks that replaced the original Koni self leveling shocks that came with the car. The original shocks were prone to leaking, and often failed to support the back of the car. A common cheap repair was to use adjustable air shocks, but would have to adjusted by adding air to the system, especially as the weather got cooler and the shocks would sag.
Although Koni no longer repairs the self leveling shocks and even rebuilding them brings sporadic success, there is a Koni replacement that offers a coil over unit that is adjustable. It may not be self leveling, but at least a comfortable ride height can be set and is not affected by temperature. We decided it was time to make the upgrade and dispose of the the gas shocks.
With the new shocks installed, I needed to turn my attention to the smashed exhaust. Looking at the damage, and the bent pipes, I decided it would be easier to replace the back section of pipes with new ones. The collision with the raised manhole cover bent the pipes pretty well, and it could be quite a wrestling match to get it back into alignment and everything straight again. I'll get pipes made, and weld the chrome tips on for perfect alignment.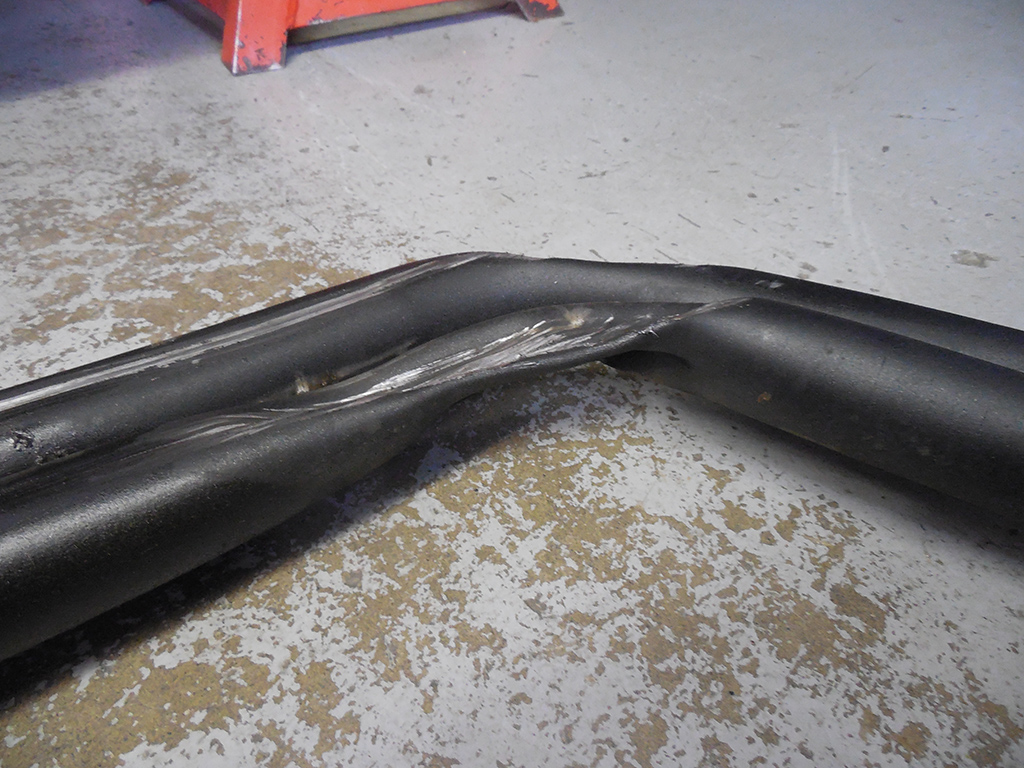 These smashed pipes reminded me of another collision I had with Mark Dempsey in a 365GT 2+2 about 8 years ago on a trip back from Cavallino.
Another item on the list of "to-dos" was to replace the hood pad on this "Queen." The pebbly vinyl material on this hood was always an eye sore to me, and the owner decided to pull the trigger on getting the correct hood pad. It was a little expensive, but really sets the engine compartment straight.
Before I could install the new hood pad however, I had to remove the old one. After peeling off the vinyl, I found a thick layer of closed cell foam insulation that had to be carefully scraped off.
The new pad was glued in place, and I cleaned an polished the hood stays to complete the project. Now the owner can open the hood, and know that no one, not even a Ferrari judge, will snicker at the wrong hood pad!
For those who prefer to send a check through the mail, my mailing address is:
Tomyang.net LLC
P.O. Box 36
Hollowville, NY 12530