GTE Engine Disassembly
With the heads and timing chest off the GTE engine, we turned our attention to the bottom end. This included removing the oil pan, oil pump, rods, rod bearings, and main bearing caps.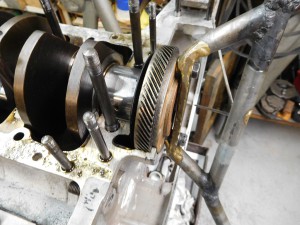 There were several signs that the bottom end of this engine was never taken apart, but one modification to an original detail on this engine is to change the "slinger" groves on the back of the crank shaft to accept a modern lip seal for rear main seal. The design of these grooves machined into the crank shaft was to sling oil back into the sump as the engine turned. It worked OK, but the back of the engine was always wet with oil with this type of set up. By the mid 330 run of Ferrari engines, Ferrari started installing a pressed in seal with a modern lip seal. The modification involved cutting out the grooves and machining the back of the block into the correct OD to accept the new seal. With everything apart and ready for a rebuild, this is the only time to get this procedure done.
The pistons on this engine were all original, and will probably be replaced. Nothing looked out of place or broken, but usually after measuring, the parts will be at the limits of wear and replacement rings for these old pistons is no longer available.  The cylinder walls will also need to be cleaned up and probably bored out to get the bores straight and true, so over sized pistons will be on order.
After removing the crank shaft, I was happy we decided to take a closer look at the bottom end of this engine. The main bearings showed excessive wear, and signs that there was a lot of moisture in the the sump or oil. The crank shaft looked like it survived without much scoring, but if we left these worn bearings in the engine, we would have seen problems in the future.