Amelia Island Concours
This year's Amelia Island Concours was moved to Saturday to avoid a rainy Sunday. There was a bit of a scramble to get the cars offloaded one day early and jam two days worth of activities into one day.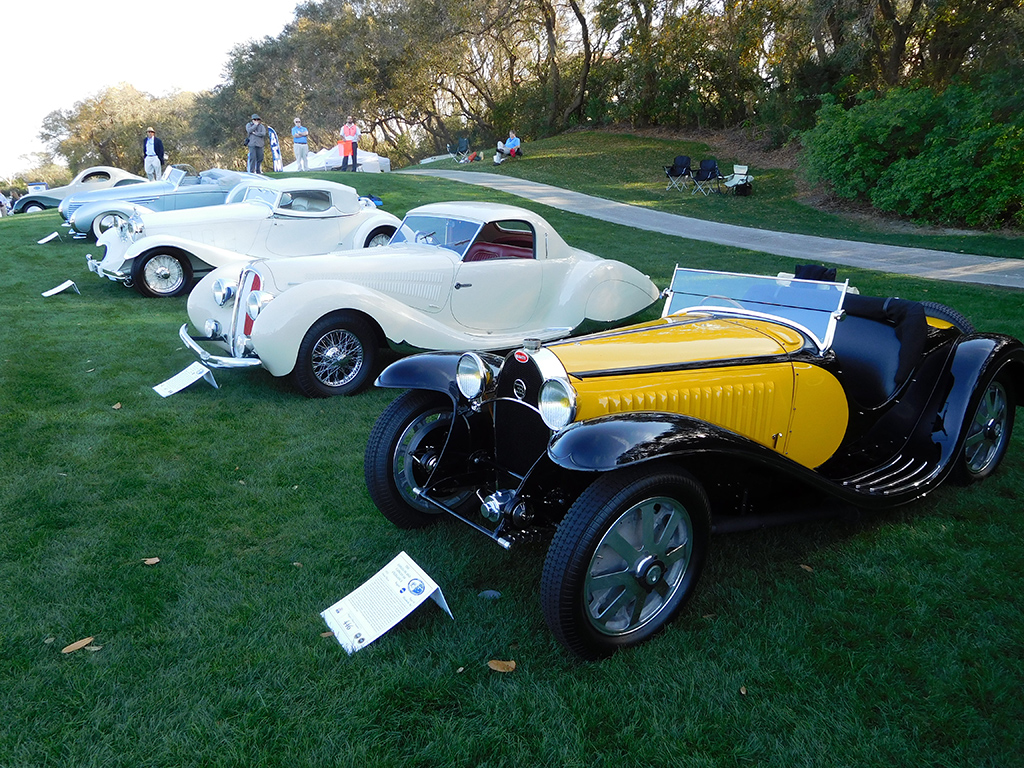 I arrived early to see the cars before the crowds and there were so many great cars with spectacular restorations to see.
As I walked to the Ferrari show field, I was approached by the Chuck Queener and Parker Hall. They saw me drive onto the lawn a very rare 1952 Ferrari 342  America the day before, and assumed I was showing it. "No, no, no, not me!" I exclaimed. Lawrence Elliot brought this car from California and was obviously late. Luckily, I had his cell phone number, called him, and got the three people together.
There's a funny story behind my driving the 342 America onto the show field. I ran into Lawrence Elliot, a Los Angeles Ferrari Expert, in the Lobby of the Ritz Carlton.
Before saying hello, Lawrence blurted,
"Tom, what size are your hands?!"
Taken aback, I measured my hands up to his, and he exclaimed,
"Perfect! I need your help. I need you to come with me to install a chronometer in the 342 America I'm showing tomorrow!"
Realizing I was being volunteered to work this weekend, I hoped I wasn't going to regret helping Lawrence. I agreed to meet him later in the day out by the trucks, but I really didn't like working on other people's cars. Installing a gauge back in a dash is tricky at your home shop, but lying in a car trying not to disturb any wiring, scratching any paint, and risking soiling a near perfect interior that someone else spent a lot of time doing is not my idea of fun!
Luckily, I managed to do everything Lawrence needed, despite his coaching, and even filled his final request was to drive him and the 342 America onto the show field.
My Boss Francois Sicard was at the same show with a client's 275GTS NART Spyder parked in the "movie cars" section. This rare car not only was in the Steve McQueen movie, "The Thomas Crown Affair" and still had the seats Steve McQueen and Faye Dunaway sat in for the movie, but also has great racing history.
Luigi Chinetti's North American Race Team entered this new car at "12 Hours of Sebring" with two female drivers, Denise McCluggage and Pinky Rollo. Whether it was a publicity stunt, or a stroke of genius, these two women were very competitive with a very capable car. One of the NART mechanics that worked at this race told me there was very little preparation on this car, and was pretty much a normal road car. As the race started, they realized they didn't have a pit board to post information to the ladies in the car so they pulled the plywood trunk panel out of the car and used that to signal the drivers as they came down the front straight.
The first time I saw this car down at the shop, I immediately opened the trunk to see if this bit of folklore was true and I was not disappointed. Under the carpet was the same trunk panel/pit board used 50 years ago in Sebring.
What's neat is written clearly on the bottom side of the trunk panel is "IN" to tell Pinky or Denise to come into the pit for tires or fuel. They would have finished 1st if it wasn't for a flat tire at the very end of the race, but managed a 2nd in class! Not bad of a street driven convertible that looked just as good cruising in Beverly Hills as it did on the track in Sebring!
After the show, I was invited to a couple of cocktail parties. It was a nice time to wind down from a couple of hectic days. Thanks to Cathy Roush of FML, and the Gilligans for their hospitality!
With the Concours rescheduled for Saturday, I had most of Sunday free and was trying to figure out what to do and it didn't take long to figure it out!
I found Bob Smith and Lorraine hanging out in a bar in Ferandina Beach, and joined them for a couple of drinks.
Bob Smith owns Coachworks outside of Dallas, and is one of the best shops for Ferrari restorations. Not only does he have a world class facility, he also built a chrome plating facility to match. Bob has always been so supportive of my work, and it was nice to spend some time with him and Lorraine.
There was a really good father/son duo playing at the bar with a playlist of all your favorite southern rock tunes. I couldn't think of a better way to spend a raw and rainy day in the Florida Panhandle. Good times.
Save the Date!
10th Annual Tomyang.net/Radcliffe Motorcars Spring Car Show!
With our tenth year, I hope I don't have to tell you how much fun this cars show has become.
Where: Radcliffe Motorcars Company
12340 Owings Mills Boulevard, Ste. 100 Reisterstown, MD 21136
When: May 6th, 2017
http://www.rmccar.com/vintageferrarievent.html
Contact Richard Garre about registering for the event. Space is limited to about 90 cars, so register early!
410-517-1681