330 Chrome and GTE Driveshaft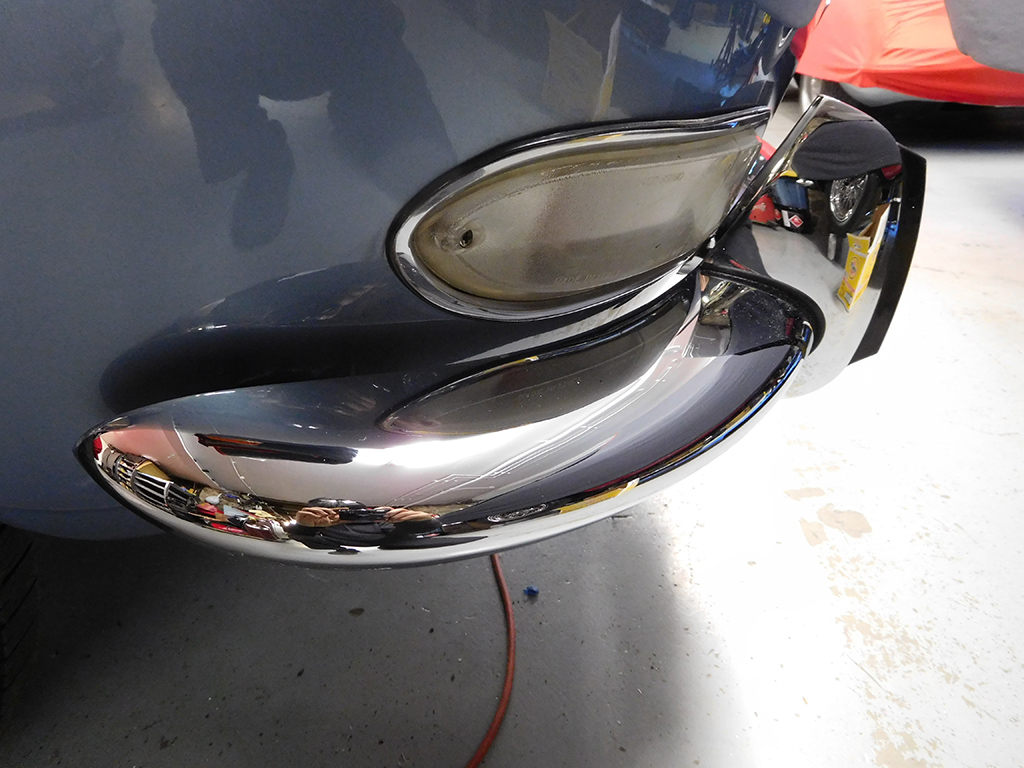 The chrome pieces are coming together nicely on a SII 330 GT I'm doing over the winter. After checking the parts a couple of weeks ago in copper plating, I assembled them for the last time in its final chrome plated finish.
I'm waiting for the final plating on the reverse lights, but I needed to clean up the light fixtures too. The brackets needed to be cleaned and painted too before putting them back on the car. There was no sense in having the outsides all nice and shiny, and leaving all the insides all dirty and rusty!
Another project on another car is moving forward. I collected all the pieces I would need to put a drive shaft together for balancing. Parts came from three different sources, but after some measurements, phone conversations, and consultation of the parts book, I ordered all the parts, and hoped they would all fit.
If you recall, I needed both yokes, and GTEs are configured a particular way so it was a big relief to have everything fitting correctly.
The final piece to the puzzle was fitting the new big rubber doughnut on one end of the driveshaft. This doughnut isolates some of the vibrations in the drive line, but is a bit of pain to install without the installation band that holds everything in alignment when you buy a new one. Just remember to remove the band when everything is bolted in place! I remember once getting an e-mail from a fellow owner complaining about a vibration coming from his drive shaft after installing a new rubber insulator. When He sent me a picture of his work, I immediately saw the culprit! With the steel band removed, his drive shaft worked beautifully!
Save the Date!
10th Annual Tomyang.net/Radcliffe Motorcars Spring Car Show!
With our tenth year, I hope I don't have to tell you how much fun this cars show has become.
Where: Radcliffe Motorcars Company
12340 Owings Mills Boulevard, Ste. 100 Reisterstown, MD 21136
When: May 6th, 2017
http://www.rmccar.com/vintageferrarievent.html
Contact Richard Garre about registering for the event. Space is limited to about 90 cars, so register early!
410-517-1681