GTE Details
An interior restoration is about to commence on a GTE I have at my upholsterer's shop, but there were some other details I wanted to address.
Although the car was painted, and the interior is getting re-done, practically nothing was done to the engine compartment. The engine was rebuilt, and from what I was told, the mechanical parts were addressed, but none of the details were addressed. When all the exterior components are done, I would hate to have the owner pop to hood to his car and see this disaster! I don't think we'll have to pull everything out to make the engine compartment look better, but some parts will have to come off for refinishing, cleaning, and painting. Since the car will be at the upholsterer's shop for a few months, I decided to take some parts off the car to get a jump on the work.
Parts of the interior will come off as well.
The steering wheel will come off so I can strip and refinish the steering wheel. I can sometimes sand and reapply varnish over the old finish, but once too much of the varnish has rubbed off and the oils from the driver's hands soaks into the exposed wood,  the staining becomes irreversible without completely stripping the varnish.
Another strange modification on this GTE was the bend in the shifter. Correct me if I'm wrong, but I have never seen a bend in the shifter lever in any stock GTE. They have all been straight as far as I remember.  Some GTEs have a clearance issue with the switches on the center console, where shifting into third gear has the tendency to switch off the electric fuel pump, but this bend in the shifter would not solve this problem.
I do know the center console on this particular car's center console was modified to toggle switches sometime in its past, and perhaps those switches caused worse clearance issues with the shifter. I can see heat was applied to this lever to get it to bend, so I think this mod was done after the toggle switches were installed. Before I send this shifter out for chrome plating, I plan to heat and bend the lever back to stock, unless I hear otherwise!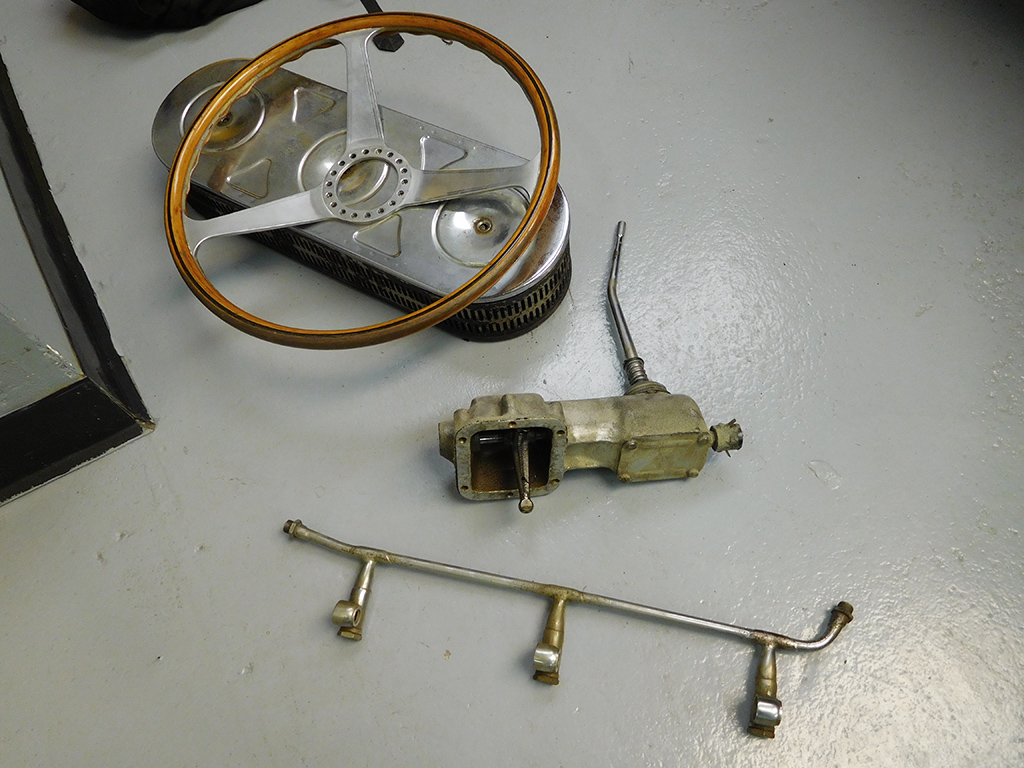 I left the upholsterer's shop with an arm load of parts to take to home. The shifter will have to be disassembled and the air cleaner stripped before giving them to my plater, but I'm getting a jump on the process!
Save the Date!
10th Annual Tomyang.net/Radcliffe Motorcars Spring Car Show!
With our tenth year, I hope I don't have to tell you how much fun this cars show has become.
Where: Radcliffe Motorcars Company
12340 Owings Mills Boulevard, Ste. 100 Reisterstown, MD 21136
When: May 6th, 2017
http://www.rmccar.com/vintageferrarievent.html
Contact Richard Garre about registering for the event. Space is limited to about 90 cars, so register early!
410-517-1681