Daytona Service
A Daytona was in the shop last week for a quick service. It's been in the same family for years, and is a quintessential "driver!" I always describe these cars a lot like old leather jackets; they may have a few scuff and scrapes, but when you put them on, they just feel right!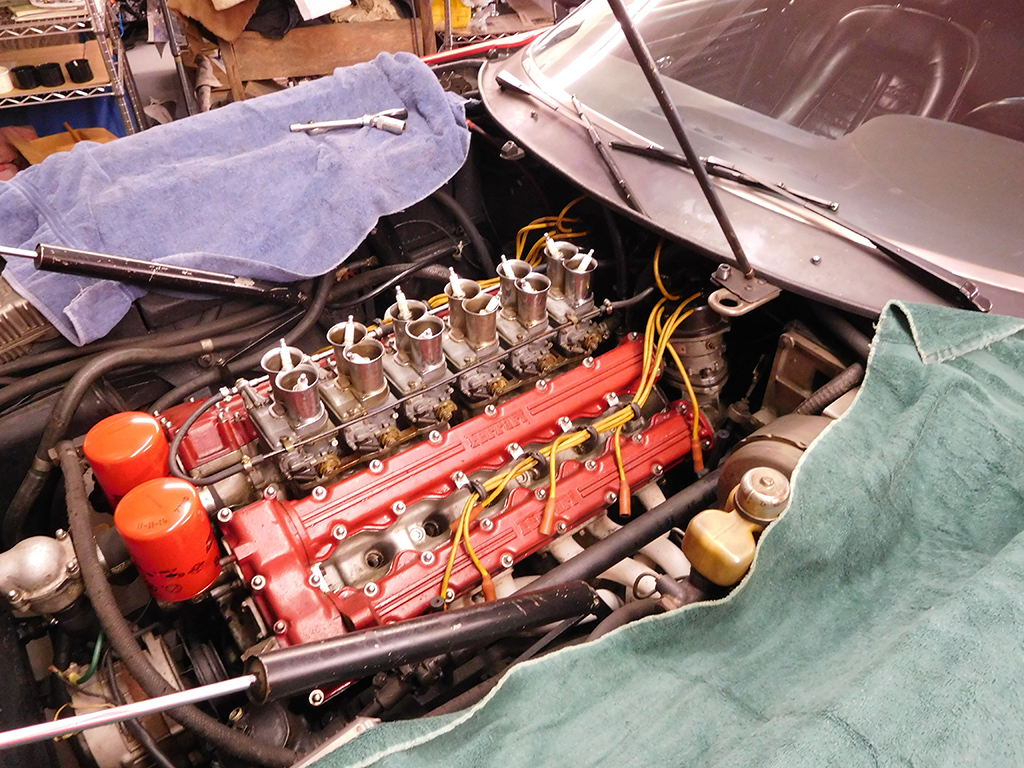 Gianni wanted us to check the ignition system for a Spring tune up, so I checked the plugs and distributors.
Points set suppliers have changed through the years, and quality varies. The springs in the old set were losing their spring tension, so I noticed some points bounce on the distributor machine. A fresh set of points fixed the problem.
A brake bleeding was also on the list of "to-dos," and I hope it was done in time! The fluid in the reservoir was pretty dark and way past its prime. I like to bleed brakes at least once a year, if not every two years depending on how the car is stored and used. Old, dirty, moisture laden brake fluid will cause pistons to seize. I recently did a brake job where small ridges of varnish were left on brake pistons on what otherwise were good brakes without leaks. The ridges of varnish seized the brakes and required a complete dis-assembly and rebuild of the calipers.
It doesn't take much to bleed the brakes, and even a few minutes of gravity bleeding at each corner will put some fresh fluid in the caliper to keep deposits or rust from forming.
Save the Date!
10th Annual Tomyang.net/Radcliffe Motorcars Spring Car Show!
With our tenth year, I hope I don't have to tell you how much fun this cars show has become.
Where: Radcliffe Motorcars Company
12340 Owings Mills Boulevard, Ste. 100 Reisterstown, MD 21136
When: May 6th, 2017
http://www.rmccar.com/vintageferrarievent.html
Contact Richard Garre about registering for the event. Space is limited to about 90 cars, so register early!
410-517-1681