2017 Roadtrip to Monterey Begins!
I headed out to Salsbury MD to meet my friend Brad Phillips to drive to Monterey this year. This trip started out with a the idea of driving a couple of Ferraris across the United States to Monterey, but morphed into a very different trip. One car was getting its engine rebuilt and couldn't make the deadline, another owner couldn't spare the time to make the long journey, my car had a broken transmission, and we were left with Brad's 308! After some discussions about weather, reliability, the comforts of A/C, and the recent purchase Brad made, we decided to take his Toyota!
Brad works for Hagerty, and found the perfect car for not only a road trip, but also to enter into "The Concours de Lemons" show he was judging in next week: a 1993 Toyota Century! These cars were for the Japanese Market and were never imported into the US, but recently due to import rules, these 25 year+ cars could be imported and sold to us here in the States. Brad saw one a few weeks ago, and just had to have one, so the car for our road trip was found!
When I arrived, I was a little disappointed and confused why Brad asked me to sit in the back seat of the Century. I envisioned sharing the drive, pilot and co-pilot in the front seats, but it soon became clear in his thinking. The rear seat in this car is where the comfort is! My favorite part is the pass through on the passenger front seat so the rear passenger can stretch his legs out. Reclining with an electric massage seat, cooled with my own rear A/C vents, with my legs stretched out, I could see this was going to be comfortable cross country trip!
The plan was to drive from Maryland to Ohio the first leg to get some miles under the car, but as the first 8 hours passed without any incident or discomfort, we decided to push through the night! The morning sun found us in the corn fields of Illinois relatively fresh and ready for more driving.
The car was definitely a luxury yacht, including a "Nautical" feel in the steering. Even with the electronically controlled shock setting to "firm," this car would wait a little beat before responding to steering controls, but man was she comfortable. Whether reclining in the back seat, or piloting the car from the right hand drive, the miles just rolled away.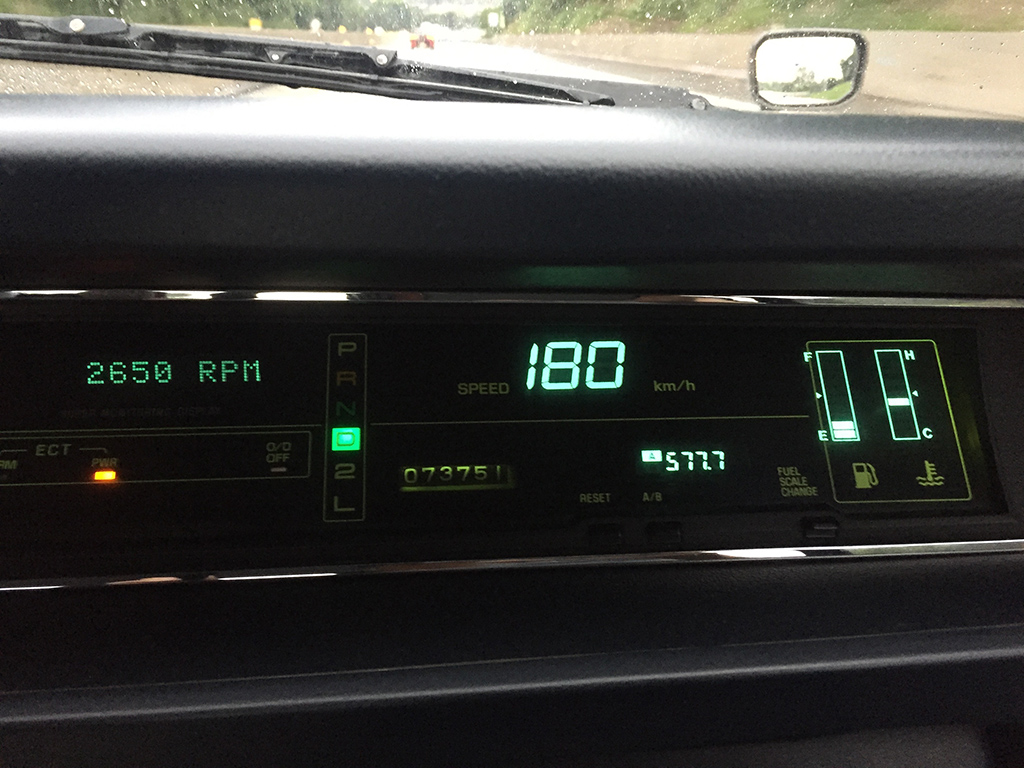 Besides the usual universal pictograph controls for the transmission, lights, and instruments, everything else was labeled in Japanese. Since I can't even read my ancestral language of Chinese, I was no help, but Brad managed to make cheat sheets by using google translate that help decipher most of the controls, but man there were a lot of buttons!
As we pushed through the night and the next day, we started finding small electronic failures. First, the cruise control wouldn't engage, and after checking fuses, vacuum lines, and connections at our rest stops for fuel we couldn't figure out the problem.
The next problem came when the speedometer rocketed to 180kph! I was moving along at a pretty good clip in I80, but didn't think I was pushing this barge that quickly! It soon became apparent something was wrong as I slowed down and the speedo was pegged at 180. It would only start descending in value as I dropped below 55mph. Doing some math, we figured the speedometer was reading double and would stop registering above 180kph, or 90kph actual speed.
A bigger concern was a flat tire we had in Nebraska just outside of Ogallala. The road was rough, but I felt a vibration I had not felt before and pulled over about 30 seconds after it started. Luckily the tire didn't blow out, and no damage was done to the wheel. We pulled the car as far off to the side of I80, kept one eye on the traffic, and swapped out the tire as fast as we could.
We couldn't figure out why all the local tire shops were not picking up their phones until we realized it was Saturday at 3pm! Our minds were shot from driving all night, and were living in a time warp thinking it was a regular day of business! We called at least four tire shops in town, and stopped by two of them to see if anyone could help. We finally stopped by an O'reilly's Autoparts store to ask for some advice. They gave us a number to a shop that would help us in an emergency, and he answered the phone!
We were looking for a 205-70-14s, but he only had a pair of 195-75-14s. Being our last chance on a Saturday afternoon at getting back on the road, we bought the tires, had them mounted and headed down the road.
Our final destination after the flat tire that evening was to Alliance Nebraska to see Carhenge! It's a replica of the Stone Monoliths found in England, but assembled in cars. It's supposed to be an accurate representation in layout and orientation, and I thought it was pretty neat.
Since Brad works for Hagerty Insurance, we shot a video to post on their facebook page. You can follow us on my facebook feed, or Hagerty Classic Cars on Facebook as well.
Monterey Cocktail Party at Quail Lodge.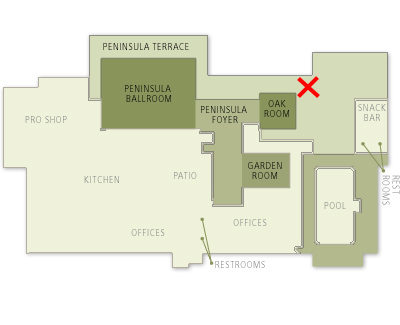 There are only a few days left before we all start gathering in Monterey for the Car Week festivities. Thursday night, August 17th,  5:30-8pm at Quail Lodge is my annual cocktail party and I hope to see you there. This year, there is a change in security, and maybe even shuttle bus service to get onto the grounds at Quail Lodge even on Thursday. I am trying my best not to have to provide a guest list to allow you to enter Quail Lodge, but be prepared to go through security. Give yourself some extra time to get to the party, and I hope all you have to do it tell them you're coming to the TOMYANG.NET Cocktail party. If anything changes, I will post it on this website. See you all Thursday!